The Company Officer as a Coach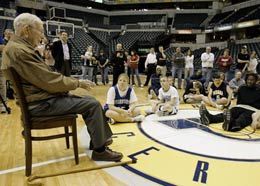 AP Photo/Darron Cummings
Former UCLA head coach John Wooden talks to a group of students and college players in Indianapolis in 2005.
Company officers alone cannot, and should not, handle the details that turn their crew's objectives into reality. They must "coach for performance." Company officers become coaches when they lead their crew (team) with a philosophy of encouragement and support.
Coach John Wooden, the exciting leader of the legendary UCLA Basketball dynasty, once said, "We may not control the outcome, but we can control the input — our effort."
A capable and well-trained crew that embraces your philosophy of being prepared and ready to operate, at any time, during any intensity level, is safer and goes to the emergency scene ready to give its best effort. Your philosophy of encouragement and support is the leadership input that they need.
As the company officer, or the coach of your team, you need to lead rather than pull hose, raise ladders, or do any of the other detailed work. As their coach, develop a plan to guide your team to better performance. Here's a simple plan that you can do:
Support your team
Without the right skills and resources to perform their job, no amount of direction from the company officer will accomplish the job. Officers acting as coaches will support their teams by making sure that they have the proper knowledge, skills and abilities to safely and effectively complete their tasks. It all begins before the event through sustained training, together as a team.
Know when to push your team
Just like when the coach of a sports team knows when to yell, company officers need to know when to "push" their team when they need it. Observant coaches know when team performance is lagging and when to apply pressure. And knowing how to apply that pressure, or how take the team to the next level, is just as important.
Bring out the best in your team
People are different; people are alike. An open-minded coach knows the individual capabilities of each team member. They see the strengths and weaknesses of the team. This allows them to bring out the best in the team by taking advantage of their strengths and improving their weaknesses. Good coaches know how to make the team the best they can be.
Monitor your team's performance
Keeping track of the individual abilities of each team member is another characteristic of a good coach. The goals you set through your philosophy and practices will identify an action plan to follow, and a clear path toward achieving it. Talk with them often about the status of the team's goals, replaying any improvement needed, and complementing all improvement achieved. Be ready to coach the team during difficult times and good times.
Encourage your team
Everyone needs to feel that they're doing good work and to feel appreciated. A compliment is a great motivator, while public criticism or embarrassment is not. As the coach, your comments, whether made directly to your team or talking to some else about your team, can make all the difference.
Successful firefighting crews (teams) perform best when their company officers (coaches) lead them rather than get involved in the details. Successful company officers build their firefighting crews to perform to their potential, any where, at any time and under any intensity level, by preparing and training them with a personal philosophy that encourages and supports them. Make an effort to build your potential as a coach and pass it on to your team. This is a philosophy that will lead to team success.