COVID-19: Simple steps firefighters can implement today
The fire service is the best agency to tackle the pandemic; we just need to follow some simple guidelines
---
By Trevor Frodge
COVID-19, the novel coronavirus first detected in China, is now running rampant through the United States – and the world.
The escalation of closures of schools, public events, work and travel restrictions, and quarantine measures is alarming to the public and to our public servants. Additionally, there is a rapidly growing amount of misinformation being shared via social media, alleging conspiracies, political motivations for the virus and down-playing the seriousness of the event.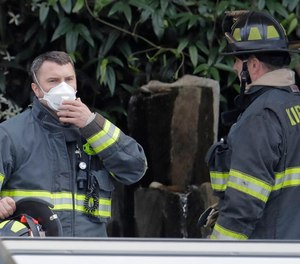 Yet, through all of the confusion, misinformation and fear, the fire service stands ready to tackle this crisis directly on the front lines. We are the best agency for it.
We have been here before – and we're ready
For years the fire service has dealt with pandemic events. Post-9/11, the fire service answered the call for our first taste of biological terrorism with the anthrax scares. "White powder" calls became commonplace, prompting hazmat responses nationwide. We identified, detected and mitigated hundreds of calls (both real and fictitious) without a single injury or fatality.
Fast forward a few years, and we've dealt with H1N1, swine flu and Ebola. Our level of preparedness from the federal level down to the local responder is massive, immense and ready to deploy. We've prepared for any emergency and threat as a response agency, and now we are simply facing a new one – COVID-19. We have the training and experience in infectious diseases to help mitigate this problem.
Make no mistake, COVID-19 is a dangerous virus. It is the worst possible kind of virus we can face in that it is an airborne- and droplet-transmitted disease that spreads rapidly. As a fire service, we must understand and take precautions, but also must educate the public and our membership with facts. Nearly 80% of those infected will have mild symptoms ranging from fever to cough. Some patients will be more severe, typically those who are older or have other co-morbidities, such as heart problems, lung problems or are immunocompromised. Those patients will likely require hospitalization. Unfortunately, as this pandemic spreads, some of those patients will die, just as many patients die from septic shock every day.
As a response agency, we must be ready and prepared. We cannot afford to put our heads in the sand and believe that this will not affect our communities. It is coming, but we can combat the illness and reduce the panic that is being shown across the country by facing this threat, educating the public, and taking some proactive measures. Because we are one of the most trusted services in the country, and we know our communities better than anyone, we will be the trusted experts that our citizens turn to during their time of need – just like any other emergency.
So what do we do?
Simple steps to serve – while safe
We must adjust our operations to some extent. My organization has begun screening calls for COVID-19 symptoms. If a patient complains of COVID-19 symptoms such as cough, fever or shortness of breath, that information is relayed to responding units to don appropriate PPE.
We've adjusted our response matrix and how we approach EMS calls. For the time being, we send in a minimum number of personnel to assess the patient. If additional help is needed, that crew radios outside to the engine crew to bring in further equipment. Ideally, if a patient is able to safely do so, have them walk outside to meet EMS crews. Naturally, this is not always possible, and we must remember to put our patients first.
If COVID-19 symptoms are suspected or confirmed crews don the recommended PPE from the Centers for Disease Control and Prevention (CDC). PPE for COVID-19 is a disposable gown to stop droplet transmission to our duty uniforms, gloves to prevent germ transmission to our hands, eye protection to prevent droplets entering our eyes and mucous membranes, and a NIOSH-approved N95 respirator for respiratory protection. If there is low suspicion of infection, then this level of PPE is not needed. Remain cautious, though, depending on where you are responding. For instance, if your running area has commercial office buildings, hotels or multifamily dwellings, consider placing a surgical mask on yourself with eye protection and gloves prior to entering these facilities. Maintain a distance from your patient and limit contact with them as best as possible. Consider placing a surgical mask on them as well to add additional barriers of protection. After the call, ensure your ambulances are decontaminated with viricidal solutions to remain ready.
At the station level, we must remain vigilant and keep our areas clean. My company has instituted a twice-a-day house chore regiment. Surfaces such as door handles and light switches are sprayed down, all surfaces are cleaned with approved cleaners. Keep in mind that the kill time for most cleaners is 10 minutes for biological agents. Spray your surfaces and let them air dry for 10 minutes. Ensure your facepieces on your SCBAs are cleaned, bunk rooms disinfected, and surfaces within the cab of the apparatus are wiped down.
Some inconveniences will occur within our ranks. We've suspended or limited trips to the store to avoid large crowds and reduce the risk associated with possible contamination. Ensure your department has a plan for crews when they become exposed. How will they be taken off shift? Who will cover their positions? The biggest key is to have a plan. It will be too late when it occurs if a plan is not in place.
Lastly, do not panic. I've heard the phrase that these are "unsettling times." To the public at large, that is true, but for us, this is another task that we've been asked to handle. It is expected that we remain professional, that we hold the line, and that we educate and reduce our risk of exposure as low as reasonably possible.
One way to view this is as a gigantic hazmat run. We can reduce the contamination with limiting contact, wearing masks and respiratory protection, disinfecting and minimizing time with our patients.
This is our mission
The bottom line: We are the fire service and this is our mission. Let's put our citizens first as we've sworn that we will do. Let's protect our members and keep them safe. Let's educate the public with facts and guidance. Finally, be a fire department. Get outside, pull hose, train hard, and deliver the services our citizens expect and deserve.
Stay safe.
ABOUT THE AUTHOR
Trevor Frodge is a fire lieutenant with the West Chester Fire Department in suburban Cincinnati, Ohio, currently assigned to one of two rescue engines. He is a nationally registered paramedic, fire and EMS instructor, and fire inspector. Frodge is a member of the Butler County Technical Rescue Team, as well as a Hazardous Materials Specialist for Ohio Task Force 1.
Editor's note: What advice are you sharing with your crews? Share in the Comments or email editor@firerescue1.com.