Sailor saves fire chief's son after collapse
The sailor received a military award for rendering life-saving aid to the 29-year-old Navy facility employee
---
By Puget Sound Naval Shipyard & Intermediate Maintenance Facility
BREMERTON, Wash. — A Sailor received a military award today at Puget Sound Naval Shipyard & Intermediate Maintenance Facility for helping save the life of an employee.
Hospital Corpsman 3rd Class Christopher S. Painter received a Navy and Marine Corps Achievement Medal from PSNS & IMF Commander Capt. Dianna Wolfson for rendering life-saving aid to Garrett Woodard, a 29-year-old Shop 64, Shipwrights, employee who collapsed Friday evening in a break room.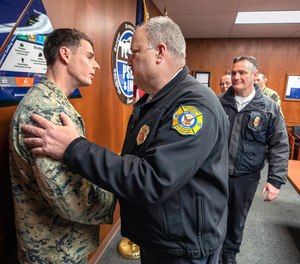 Painter, on temporary duty at PSNS & IMF, was standing watch in the area when the employee suddenly fell to the ground unconscious. Painter heard the calls for help and put his military training into action.
Painter assessed the patient and immediately began performing CPR, and continued to administer aid until emergency medical service personnel arrived. The team was able to get the employee breathing and get his heart restarted through successful CPR and the use of the defibrillator.
During the presentation ceremony, Wolfson recalled receiving a text notification Friday evening that an employee was unresponsive.
"I received another text saying the CPR was being given and that you, HM3 Painter, were on scene doing that CPR," she said. "I next heard that you saved his life. I went home feeling very blessed that you were there."
Capt. Eric Frey, with Navy Region Northwest Fire & Emergency Services, said the quick and skilled response from Painter likely affected Woodard's outcome.
"With his skills and his training, he was instrumental in Garrett surviving," Frey said. "Every second that goes by (without life-saving care) starts dropping a patient's chances. With [Painter's] level of training, that really helped."
Wolfson informed the crowd of about 40 people in attendance that the watch bill for that evening had been recently changed, and that Painter had not originally been scheduled to stand that watch.
"Some movements in the watch bill placed you on watch that evening, in the right place, at the right time," Wolfson said. "On behalf of everyone here, I want you to know that your efforts to look after our folks are sincerely appreciated."
Jack Woodard is the district fire chief with Navy Region Northwest Fire & Emergency Services and the father of Garrett Woodard, and was at the ceremony. He informed the crowd of his son's progress after suffering an apparent electrolyte imbalance that caused his heart to stop.
"I've been here 33 years responding to calls like this," Jack Woodard said. "To be on the other side of things, it's very emotional. From my family and all of us, I appreciate everything that you did. You're going to be a part of our family now. Thank you."