Mass. FF charged, confesses after spy cameras found in women's locker room at firehouse
A police report says a female Easthampton firefighter noticed a "blue light" coming from a locker, which led her to find cameras in two lockers
---
Stephanie Barry
masslive.com
EASTHAMPTON, Mass. — A firefighter was arrested Thursday and charged with allegedly placing two cameras in the women's locker room at the fire station, according to court records.
Nicholas Tillman, of Westfield, quickly confessed to secreting the cameras in separate lockers in the women's facility after a female employee discovered them on July 13, a police report says.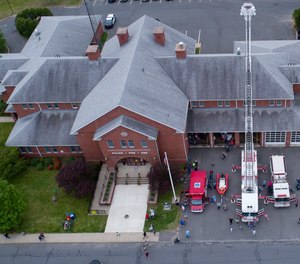 Tillman, who became a firefighter in 2018, allegedly was spotted on a police camera entering the women's locker room Thursday and discovering his own cameras were no longer there. He swiftly went to a supervisor to report he had "a problem with voyeurism" and had "f---ed up," according to police reports.
He was arrested and arraigned in Northampton District Court Thursday afternoon on charges of secret sexual surveillance and unlawful secret recording, defense attorney Jared Olanoff confirmed. Olanoff declined further comment.
Easthampton fire officials could not immediately be reached for comment regarding Tillman's employment status.
A police report says a female firefighter noticed a "blue light" emanating from one of the lockers in the women's locker room on Wednesday.
"(She) opened the locker to see what it was and discovered the camera taped to the locker and attached to a power supply," a report by Easthampton Police Detective Rick J. Rogalski stated.
According to the report, the woman searched the remaining lockers and found a second camera. She informed her supervisors who then called the police.
The report says that Easthampton detectives conferred with a computer forensics expert with the Northampton Police Department and discovered images of women changing in the locker room gleaned from a thumb drive linked to the secret cameras.
Police first suspected two electricians who had recently done work for the Fire Department, but both denied placing any cameras in the locker room. Detectives then placed their own camera in the area. On Thursday, footage showed Tillman entering the women's locker room and checking the two lockers where the cameras had been placed, according to police.
"He closes the (second) locker and immediately leaves the area," Rogalski's report says.
Tillman went to a deputy chief in the department to "confess," reports say, and called his wife to inform her of the situation.
"He told his wife that getting fired was the least of his problems, that he was probably going to get arrested," the report says.
A Fire Department official told detectives Tillman spends most of his shifts with his laptop if there are no emergencies or official business.
Tillman was released without being required to post bail, subject to a stay-away order from alleged victims or witnesses in the case.
A pretrial conference is set for Aug. 16.
___
©2022 Advance Local Media LLC.
McClatchy-Tribune News Service