Experts: Colo. faces potentially devastating wildfire season
"With 63 percent of normal snowpack in southeast Colorado ... there's heightened fire awareness," Gov. John Hickenlooper said
---
By Debbie Kelley
The Gazette
ENGLEWOOD, Colo. — Friday's news from the governor and state wildland fire experts came as no surprise: Colorado faces a potentially devastating wildfire season.
Possibly, officials said, the worst since two of the state's most destructive - the 2012 Waldo Canyon fire, which burned 347 homes in Colorado Springs and killed two residents; and the 2013 Black Forest fire, which destroyed 489 homes and killed two people.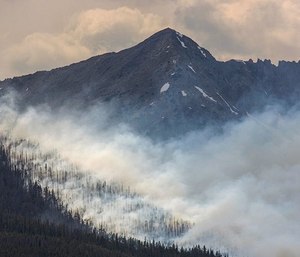 "With 63 percent of normal snowpack in southeast Colorado and into the headwaters of the Arkansas River drainage, there's heightened fire awareness," Gov. John Hickenlooper said at an annual wildfire outlook briefing at Centennial Airport in Englewood.
Colorado Springs and Pueblo are the two largest cities in the Arkansas River Basin.
Other parts of the state are in worse shape, or "extreme drought conditions," officials said, including the San Miguel, Dolores, Animas and San Juan basin, with 36 percent of normal snow-water equivalent, and the Upper Rio Grande Valley, at 38 percent of normal, as of Thursday.
The state's core fire season, which normally runs from Memorial Day through Labor Day, could be extended and more extreme than usual, Hickenlooper said.
The good news, he said, is that the state is more prepared than ever before.
Intense training, upgraded equipment, new technology, a collaborative response system and more funding for firefighting are among the tools that will be employed statewide this year, officials said.
Innovations include two multimission aircraft, which cost about $5 million apiece. The decked-out planes use infrared sensors to pinpoint hot spots from the air, map out fire areas and warn firefighters of danger.
In the two and a half years the Colorado Division of Fire Prevention and Control has used the aircraft, more than 160 new fires - which would have previously gone undetected - were identified, said Stan Hilkey, executive director of the Colorado Department of Public Safety.
"These two aircraft are the biggest innovation in wildland firefighting in years," he said.
In his 32 years in the industry, Mike Morgan, director of the Colorado Division of Fire Prevention and Control, said he's always checked to see if a fire was out by taking off his gloves and placing his hands on the ground.
He marvels that the multimission aircraft can detect hot spots from the air.
"The labor it takes, this quashes that," he said. "Using these intelligence and detection aircraft is so much safer."
The state also has entered contract negotiations with Global SuperTanker Service to use its Boeing 747-400 - a heavy-duty machine that came online last year and is stored in Colorado Springs - on an on-call basis if needed, Morgan said.
El Paso County Sheriff Bill Elder announced last week that he gained approval for local use.
Infrared drone technology also is debuting this season. Hot spots left over from a fire in Grand Junction last week were found by a thermal-imaging drone that's being tested. The drone was on display at the briefing.
"It's new technology that we'll be using this summer," said Bob Gann, deputy director of the Center of Excellence for Advanced Technology Aerial Firefighting.
For the first time, firefighters will carry smaller drones, which can be launched from the field, said wildland fire technology specialist Brad Schmidt.
"They can hike with it and sync their coordinates with dispatch centers, if they need to look above the trees," he said.
The cost: about $2,850, which Schmidt said is less than the breathing masks firefighters wear.
"We're hoping this makes firefighters safer, more effective and more efficient," he said.
Federal, state and local agencies are prepared to be aggressive in defending residents, structures and public systems, said Hilkey.
But with the high fire danger, Coloradans "need to be proactive" and do their part, he said.
"People need to try to mitigate their risks and be very cautious, thoughtful and mindful," Hilkey said. "Individual preparedness and personal responsibility are the key to the safety of people."
The majority of wildland fires in Colorado are caused by human action or inaction, officials said.
Although small storms have moved through Colorado in recent weeks, two years of abnormally dry winters, combined with changing weather conditions and pine beetle kill, have created a disturbing scenario, officials said.
Statewide, snowpack levels are 70 percent of normal. The northern part of the state is faring better, with the North Platte region at 102 percent of normal.
"But there's fire risk in every part of the state," Hickenlooper said. "It's hard to predict where you'll have a fire."
Hickenlooper said he's confident that the state has allocated adequate funding. Following the Waldo Canyon and Black Forest fires, Colorado lawmakers added $12 million to the general fund, he said, with state funding increasing by 60 percent over three years. In addition, more money has been funneled toward emergency response for initial attacks.
The first level of response is free to local communities, he said, to "ensure every sheriff and fire chief knows we'll take care of all the cost at first."
Colorado's fire season has been relatively mild for the past five years.
"We haven't had one of those nightmare fire seasons since we started making these investments - it's like buying insurance," Hickenlooper said. "We have to anticipate it."
Colorado is one of the only states to have Air Force firefighting forces at its call, Hickenlooper said, to respond within the first hour of the initial start of a fire.
Agencies including the state and national forest services, the Bureau of Land Management and local jurisdictions are ready to work together, Morgan said.
"We live in the most beautiful state in the nation, and we have to do our part to protect that and the quality of life we enjoy," he said.
Copyright 2018 The Gazette