Mo. first responders stationed in Fla. ahead of Hurricane Dorian
Missouri Task Force 1 sent 52 members, including firefighters, doctors, engineers and others, to help with water rescues
---
By Erin Heffernan
St. Louis Post-Dispatch
COLUMBIA, Mo. — Missouri first responders and volunteers traveled south this week, closer to the path of Hurricane Dorian, to help in the aftermath of the powerful storm barreling toward the East Coast.
Over the weekend, Missouri Task Force 1 sent 52 members to Florida from St. Louis and around the state. The team included firefighters, doctors, engineers and others, and will specialize in water rescues, according to the Boone County Fire department, which oversees the task force. It is one of 28 FEMA task forces of its kind in the country.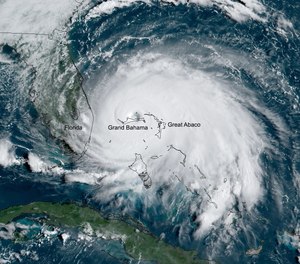 Members have arrived and are staying at a hotel in Jacksonville, Florida, until the storm hits, said task force spokesman Gale Blomenkamp.
On Monday, volunteers in St. Louis loaded food and water into one of nine emergency response vehicles the American Red Cross of Missouri and Arkansas sent south for Dorian response. This week 32 volunteers from both states, including six from St. Louis, traveled to Alabama and Florida to wait for the storm.
"They are going to help mostly with sheltering people who need it," said Red Cross spokeswoman Sharon Watson.
The volunteers will work in two-person teams driving the emergency vehicles to provide food and other disaster response supplies to residents affected by the hurricane who can't make it to shelters. Others will help with logistics, transportation and shelter operations, Watson said.
Utility crews with Ameren Missouri are monitoring the storm, and may also send crews into the path of Dorian if the need arises, said Mike Lewis with the company's reliability support services.
Hurricane Dorian hovered over the Bahamas on Monday, pummeling the islands with winds that shredded roofs, hurled cars and forced even rescue crews to take shelter until the onslaught passes.
On Sunday, Dorian's maximum sustained winds reached 185 mph (297 kph), with gusts up to 220 mph (354 kph), tying the record for the most powerful Atlantic hurricane to ever make landfall. That equaled the Labor Day hurricane of 1935, before storms were named. The only recorded storm that was more powerful was Hurricane Allen in 1980, with 190 mph (305 kph) winds, though it did not make landfall at that strength.
Forecasters said Dorian was likely to begin pulling away from the Bahamas early Tuesday and curving to the northeast parallel to the U.S. Southeast seaboard. The potent storm was expected to stay close to shore and hammer the coast. Authorities cautioned that it could still make landfall on the East Coast.
An advisory from the U.S. National Hurricane Center in Miami warned that Florida's east-central coast could see a brief tornado sometime Monday afternoon or evening.
South Carolina Gov. Henry McMaster issued an order Sunday for the mandatory evacuation of his state's entire coast. The order, which covers about 830,000 people, was to take effect at noon Monday, at which point state troopers were to make all lanes on major coastal highways one-way heading inland.
A few hours later, Georgia's governor, Brian Kemp, ordered mandatory evacuations for that state's Atlantic coast, also starting at midday Monday. Authorities in Florida ordered mandatory evacuations in some vulnerable coastal areas over the weekend.
The Associated Press contributed to this report.
———
©2019 the St. Louis Post-Dispatch
McClatchy-Tribune News Service