Fallen Chicago firefighter-EMT honored at funeral
Juan Bucio was remembered as a man of few words who preferred to let his heroic work do the talking
---
By Tony Briscoe and Patrick M. O'Connell
Chicago Tribune
CHICAGO — Juan Bucio was a man of few words.
Quiet but devoted. Stoic but determined. Disciplined and precise.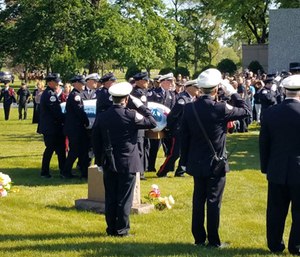 Bucio preferred to let his work do the talking, family and his fellow firefighters said, whether it was in rescues or training. He was frequently first in team dive tests. He jumped out of a helicopter on Father's Day to search for a boy missing near Jackson Park harbor.
From an early age, when he helped find his lost brother as the family crossed the border from Mexico into the United States, to his teenage years, when he was a lifeguard, to recent times as a father who dutifully helped his sons leave safely for school, Bucio wanted to help, rescue and serve.
He strove to better himself and those around him, and when he did speak up it was with a well-placed piece of encouragement or to-the-point directive.
"Knock it off," he'd say, shrugging his shoulders, "Stop with the baby tears."
And he wasn't one to wallow.
"Dude," he would say, a favorite among his few words, "you gotta keep going."
Bucio's sons, other relatives, friends and firefighter family tried to press forward Monday, gathering for a funeral Mass to remember and salute their father, brother and comrade.
Dozens of Chicago police and fire vehicles gathered outside St. Rita of Cascia Shrine Chapel at 7740 S. Western Ave., where trees bore red ribbons tied in bows and a sign read, "Let a perpetual light shine upon firefighter Juan Bucio."
Bucio, 46, a 15-year veteran of the Fire Department, died a week earlier after jumping into the South Branch of the Chicago River near Ashland Avenue to try to save a man who had fallen off a boat. Bucio was pulled from the water after he was separated from his partner and was later pronounced dead at Stroger Hospital. Investigators continue to examine the circumstances of what happened in the river. Friends of the missing boater say they have found his body, but authorities have yet to confirm that.
During the bilingual service, family members described Bucio, a divorced father of two boys, ages 10 and 9, as the strong and quiet one.
"I hope I can be that now," said his sister Maria, a Chicago police officer. "We're all hurting."
One of Bucio's last social media posts was about the recent Avengers movie, and Chicago Fire Commissioner Jose Santiago said the fallen firefighter was a superhero in his own right for the way he served the city.
"He was quiet, steady and calm," Santiago said. "He was the go-to guy."
Gov. Bruce Rauner and Mayor Rahm Emanuel also praised Bucio's dedication.
Family members and fellow firefighters said Bucio's desire to help and to be around water were deeply ingrained traits that sprouted at a young age and continued into his teens, when he became a Park District lifeguard. After joining the Chicago Police Department, he became a firefighter in 2003. His eyes set on the dive team, he joined it four years later.
"It was in his blood, from his very earliest days," said the Rev. Gary Graf, pastor at St. Procopius, Bucio's home church. "He fell in love with the water."
Sacrificing one's life for another, especially someone you do not know, Graf said, is a noble act.
Graf asked Bucio's two sons, Joshua and Jacob, seated in the front pew, to take a few steps forward and turn to look at those in attendance. Graf said the boys could count on everyone present in the days ahead, then asked the crowd to applaud for them.
"Know that his spirit is with you," Graf said. "He gave his life out of love of others."
At the end of the service, a silver Fire Department bell was rung in ceremonial tribute. Then the uniformed personnel quietly filed out of the sanctuary, joining hundreds standing in neat rows along the steps of the church.
Bucio's sons and other family members joined them outside, the boys' mother hugging them tight as the pallbearers carried the casket down the steps, past rows of saluting firefighters. They lifted it high above their heads and delicately inched it forward to crew members atop a firetruck, who secured it in place for the ride to the cemetery.
Earlier Monday morning, firetrucks with black and purple bunting led a procession along Western Avenue to the doors of the church. Leading the way was the scuba team's vehicle. Engine No. 13 carried Bucio's casket, draped with the Chicago municipal flag on the back and Bucio's fire jacket and helmet on the front.
Hundreds of first responders raised their hands to salute as a contingent of firefighters wearing kilts played the drums and bagpipes, marking the body's arrival.
Retired Chicago firefighter Alberto Cruz greeted members of the Indianapolis Fire Department before joining others entering the church. Cruz, who retired this year after a 38-year career, said the attendance of firefighters from across the state and the country epitomizes the sense of family that exists in firehouses everywhere.
"Guys pick a career and sometimes there's a downside to it," Cruz said. "But we all know we have each other's backs. We're here for the family today to let them know we're still thinking about them and praying for them. It's a shame that it's a part of the job. We're fortunate that there haven't been a lot (of line-of-duty deaths), but when it happens, it's even worse."
Members of Bucio's air and rescue team served as pallbearers and carefully unloaded the casket before heading in. One member of the team breathed heavily, clenching his fist as he fought back tears.
Bucio's sons, their gloved hands gently resting on the top of the casket and their heads bowed, led the pallbearers into the church.
Intricate flower arrangements created in the shape of firefighter insignias, the American flag, a firehouse and a pair of boxing gloves adorned the front of the chapel. Light streamed through the stained-glass windows and skylights of the sanctuary as Bucio's family and friends arrived, sharing hugs, kisses and handshakes.
White-gloved, crisply dressed firefighters lined the entry rows to the church, handing out programs and greeting mourners. A photo of Bucio in a dry suit with one foot aboard a helicopter graced the front of the programs.
Chicago firefighter Kelvin Westmoreland admired the decals with Bucio's name on the side of the scuba team's rig, one in block letters and another below the team's Maltese cross-shaped patch. A firefighter on the city's West Side and the father of a 5-year-old, Westmoreland said he couldn't sleep after hearing about Bucio's death and seeing photos of his two boys. But like fellow firefighters across the city, he willed himself back to work after the holiday weekend.
"I didn't know him personally, but he was a brother of the department," Westmoreland said. "One thing about us, we take blows and get right back into the action. If something happens, you don't worry about getting injured or death. We just do our jobs."
At the end of the afternoon, when the procession arrived at the cemetery, a fire engine carried the casket to the burial site, followed closely by the Chicago Police Department's mounted unit and the Fire Department's air and sea rescue team, which marched in formation.
A priest eulogized Bucio, noting the similarities between his last name and buzo, the Spanish word for diver. A duet of trumpeters played taps. The bagpipers played "Amazing Grace." And the honor guard folded the Chicago flag from the atop the coffin and presented it to Bucio's family.
Copyright 2018 Chicago Tribune