Female firefighters: Delivering strength under fire
Female firefighters are held to the same standards as their male counterparts, and cannot be overlooked in firefighter recruitment campaigns
---
By Michele Ice, contributor to In Public Safety
Women have been represented in the fire service for almost 200 years. The first female firefighter we know of was Molly Williams, who was a slave in New York City and became a member of Oceanus Engine Company No. 11 in about 1815. However, firefighting remains a male-dominated field. The United States currently has over 6,500 female career firefighters and about 35,000 female volunteer firefighters, but this still only represents about 6 percent of the national firefighting community.
Because of the low pay, increased health risks and increased number of emergency medical calls, America is facing a serious firefighter shortage and can't afford to exclude women. Recruitment needs are at an all-time high. Every department in the state of Georgia is hiring. Firefighter candidates must be: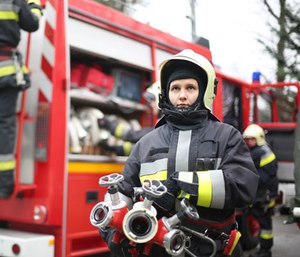 Honest.
Dependable.
Able to learn quickly.
Physically fit.
Able to function well as a team member.
Good communicators.
Good listeners.
What draws women to the fire service is a love for the job of firefighting, a desire to provide emergency medical care, and an overall strong commitment to serve others. Firefighters do a lot more than respond to fires. They also:
Firefighters often work 24-hour shifts away from their loved ones.
Female firefighters face unique challenges in serving one of the oldest and most honorable professions. For one thing, their physical strength and abilities are constantly being called into question. As a female firefighter for more than 25 years, I cannot tell you how many times a man has asked me, "Would you be able to carry me out of a burning building?" This is a question I bet every female firefighter has been asked at some point in her career, if not repeatedly. There's no doubt that firefighting requires extraordinary physical and mental strength, but firefighting is not just about brute strength. It also requires a very special mindset that includes a passion to save lives, compassion for people and an ultimate love for the job.
Female firefighters are held to the same standards as male firefighters
From a physical standpoint, of course men and women are anatomically different. Men typically have stronger upper body strength, but women are able to adapt and use their lower bodies to compensate for this difference. Women do have to work harder to stay strong. They must continuously work on cardio, strength training and flexibility both on and off duty to be the best they can be for the citizens of their communities. Whether it's dragging a 180-pound victim from a house or carrying a chainsaw up onto a roof, female firefighters find the passion and grit to get the job done.
All firefighters have to complete and pass a yearly Physical Ability Test to remain on the trucks. The test typically consists of several stations that measure the candidate's ability to perform tasks in a given amount of time. The Cobb County (Ga.) Fire and Emergency Services conducts the PAT with 11 stations, such as the dry hose advance and victim rescue. It is a very physically demanding test, no matter if the candidate is male or female. All firefighters are held to the same standards. The PAT is the same test that all new hires have to pass. So, regardless of whether you have been a firefighter for two years or 25 years, all firefighters are routinely assessed to ensure they can meet the physical demands of the job.
Even beyond the PAT, female firefighters continue proving their strength and dedication. Recently, two female firefighters from Cherokee County Fire completed the F.L.A.M.E.S. program in Chatsworth, Ga. This rigorous 48-hour course is designed to test a firefighter's personal limitations when working in high-stress situations with limited recuperation period. More than 500 firefighters in Georgia have successfully completed this course with only six women passing. It's a huge milestone for these female firefighters and proves that women can endure and succeed in even the most rigorous and grueling of physical tests.
Firefighting will always be a team effort
Female firefighters, like male, must continually train and work hard to be physically and mentally strong. However, firefighting is a team effort; rescue cannot be done alone. For example, firefighters from Dekalb County (Ga.) Fire Department recently rescued eight children from a third-story apartment fire. One of the first firefighters to climb up the ladder was a female fire captain. She helped rescue those children with the help of her fellow firefighters – it was truly a team effort. 
The parents of those children didn't care if the firefighter was male or female, they were just glad they were there to help save their babies. And that's true across the board. When people call 911 with an emergency, they don't care who the firefighter is – they just want highly trained firefighters and EMTs to respond.
Efforts to include women firefighters
To fill hiring gaps in the fire service, departments need to make a concerted effort to include women. Some departments have made important strides to accommodate female firefighters. For example, within the last 25 years, some fire stations have finally started building separate sleeping quarters and separate bathrooms for women. Departments have also started providing uniforms and firefighter gear designed to fit females. Making these basic but impactful changes allows women to perform at their best.
There also needs to be changes in the culture of the fire service to make women feel more welcome.  Sometimes, when female firefighters are moved to a new station or get a new station officer, they feel they have to start over and prove to their male colleagues that they can do the job.
But more needs to be done to recruit and welcome women into the fire service. As one of my female firefighter peers said, "If you want to be a firefighter, know that you need to train, get strong and prove yourself. We don't want to be treated differently. We just want to be firefighters, we just want to be respected."
About the author
Michele Ice has been a firefighter for over 25 years with Cobb County (Ga.) Fire and Emergency Services. She is currently assigned as Firefighter II at Truck Company 13 in West Cobb. Michele is also a CPR/first aid instructor, Community Emergency Response Team Instructor, child safety seat technician instructor, hazardous materials technician, Firefighter Cancer Support Network state director, Critical Incident Stress Management state team member, fire explorer advisor and on the GEMA Incident Management Type III Team. She is a wife and mother of two (Denver, 18; and Brooke, 20). Both her husband and daughter are career firefighters with Cherokee County (Ga.) Fire and EMS, and her son is a fire explorer. To reach her, email IPSauthor@apus.edu. To receive more articles like this in your inbox, please sign up for In Public Safety's bi-monthly newsletter.