Ohio fire department sees most diverse academy class in decades
Out of 47 recruits, 30 are white, 12 are black, four are Hispanic, and one is American Indian
---
By Kate Snyder
The Blade
TOLEDO, Ohio — Seated in rows and dressed identically in white shirts and black slacks, the 47 members of Toledo Fire & Rescue Fire Class 293 began their first day of six months of fire academy training.
The class is one of the most diverse the department has had since 1984, Fire Chief Brian Byrd said. Out of 47 recruits, 30 are white, 12 are black, four are Hispanic, and one is American Indian. Forty-one are men and six are women.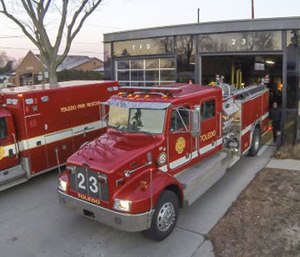 That and every other kind of diversity is important for the fire department and for the city of Toledo, the chief said, because it allows both to have a deeper connection with each other.
"A lot of what we do is about relationships," Chief Byrd said. "You have to be able to relate to the people that you're serving."
At the start of the recruits' first class on Wednesday morning, they listened to remarks from administrators within the department and the city, did a series of push-ups before every break, and became acquainted with paramilitary procedures: saluting, recognizing the chain of command, and standing to attention.
"This is the first day, it's always nerve-racking," Battalion Chief Matthew Brixey said.
So far, it appears the recruits are hanging in there, he said.
The training they will receive during the next several months involves every aspect of firefighting, including ladders, hose, search and rescue, and pump operations, Battalion Chief Brixey said. If they aren't already certified as EMTs, they will take a 10-week course to earn it.
This class, he said, is a great fit for Toledo because of the diversity.
"We represent every race, religion, culture," he said.
In his address to the recruits, Toledo Mayor Wade Kapszukiewicz said the profession they were entering is revered. In some ways, firefighters are more like a family, he said, than simply work colleagues.
"This is really a brotherhood and sisterhood that you are joining," he said.
The training is scheduled to end in August. With the TFD understaffed, Chief Byrd said this class will help push the department's staffing level toward where it needs to be.
"Our numbers need to be increased," he said, "and this is a step toward that."
Currently, TFD has 514 firefighters, not including the 47 recruits. Department administrators would like to have approximately 570 to 575 firefighters to meet staffing demands and keep overtime under control, said Pvt. Sterling Rahe, spokesman for the department. In 2019, the department also anticipates 15 to 20 retirements.
While the first day of training is often difficult, Chief Byrd said there is also a level of excitement as they embark on their roughly 180-day journey.
"We're excited for them," he said. "It's new beginnings for them. It's an opportunity for them, and what they do with that opportunity is up to them."
Copyright 2019 The Blade
McClatchy-Tribune News Service