Fire chief: Fallen San Antonio firefighter 'died doing what he loved'
Chief Charles Hood described veteran firefighter Greg Garza as a gregarious man who always had a smile on his face
---
By Taylor Pettaway
San Antonio Express-News
SAN ANTONIO — All that the San Antonio Fire Department asked for were prayers after one of its own died Tuesday after he was hit by a vehicle while working a scene.
Chief Charles Hood at a news conference identified 17-year veteran Greg Garza, 49, as the fallen firefighter, describing him as a gregarious man who always had a smile on his face.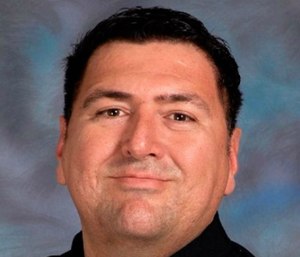 "This just shakes you to the core," Hood said.
Garza was responding to an electrical fire with Station 1 around 7 a.m. at the downtown Comfort Suites. When the crews arrived at 505 Live Oak, Hood said it seemed like Garza stumbled or tripped getting off a fire truck and was hit by a passing Culligan Van.
The driver stopped to render aid and stayed on scene to cooperate with police. Hood said the driver was grief stricken over what happened. At this point, no criminal charges are expected.
The area around the hotel was blocked off for more than two hours as the Traffic Investigation Division, or TID, collected evidence at the scene.
TID collected scattered fire equipment on the ground and a single black boot that sat in the intersection of Live Oak and Dawson Streets as dozens of first responders watched on.
Woody Woodward, a spokesman for SAFD said the firefighter's crew went to the hospital with him, but additional crews were on scene to pick up the two fire apparatuses.
While paramedics on scene and dozens of medical staff at Brook Army Medical Center worked to save Garza, they were unsuccessful, Hood said.
"His mom told me at the hospital that Greg loved being a firefighter," Hood said. "So Greg Garza, he's gone, we lost him today but he died doing something he loved."
Hood was joined by first responders and officials from across the city at a news conference to talk about San Antonio's loss.
"Today was a tragic day for our city and one where we need to grow closer and embrace each other and understand the love that is in this city that Greg fought for every single day," said Mayor Ron Nirenberg.
Hood was barely able to hold back tears as he described his firefighter and friend.
"You spend a third to half of your life with your firefighters, you sit at a table with them, talk about your kids, you talk about life, you run calls, you cook, you eat, you build relationships with these folks, so we are devastated," Hood said.
Hood said the last time he saw Garza was about three weeks ago on the scene of a fire, where Garza came up and gave the chief a big hug.
"Greg was a stunningly tall, muscular man; he was a happy individual," Hood said. "Every time you saw him he had a smile on his face. I have over 1,800 firefighters and I love every single one of them, but I knew and loved Greg Garza, so this is just stunning."
For SAFD, this highlighted the many dangers that first responders face on a daily basis, Hood said.
"We respond to dangerous calls every day where we are rescuing people out of burning buildings, on dangerous scenes on the highways, going into violent residents and to have a firefighter killed that stumbled across the street is just a sheer accident but it validates how dangerous and deadly this job is every single day," Hood said.
Hood said that only 30 minutes before the accident, he had been on his knees praying as he does every day for San Antonio's first responders and their families for everyone to return home safely.
From the community, Hood just asked for prayers for the fire family and for the Garza family.
"This city continues to need us to work hard," Hood said. "We are beat up and bruised, but we will continue to respond and do the fantastic job that we do every single day."
The department will offer counseling services for their firefighters to help them get back to work when they are ready.
"It is going to take a lot of leadership to get back on those trucks, especially for those who saw what happened, to get back on that truck and look over at that seat where he sat for years and now, he's not there," Hood said.
He also asked the public to be more aware of first responder vehicles to avoid accidents like this in the future.
"I think people get immune to fire trucks, police cars and ambulances … but this was a reminder for all citizens, please give us space around an accident, please don't look at what we are doing and watch your wheel and please if you see an incident, go around it if you can," Hood said.
We want to express our deepest condolences to the family of Firefighter Greg Garza and to the entire SAFD. Firefighter Garza tragically lost his life today while working a call. SAPD and SAFD are a true family and his loss is sadly felt by everyone. ❤️💙 pic.twitter.com/UB5qcGe8Fe

— San Antonio PD (@SATXPolice) October 15, 2019
———
©2019 the San Antonio Express-News
McClatchy-Tribune News Service