Hundreds gather to remember fallen sailor, firefighter
U.S. Navy Gunner's Mate Dakota Kyle Rigsby died aboard the USS Fitzgerald
---
By FireRescue1 Staff
PALMYRA, Va. — Hundreds gathered to remember a sailor who died aboard the USS Fitzgerald.
The Daily Progress reported that first responders, family and friends gathered Saturday to pay tribute to U.S. Navy Gunner's Mate Dakota Kyle Rigsby. The 19-year-old sailor and volunteer firefighter died with seven other sailors aboard the USS Fitzgerald when it hit a container ship off the coast of Japan.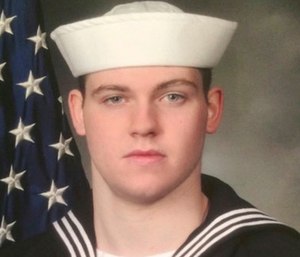 Ladder trucks from several fire departments held flags above the parking lot of Fluvanna County High School.
Fluvanna County Board of Supervisors Chairman Mike Sheridan, who was Rigsby's coach and teacher, said there wasn't a dry eye in the building.
"Those ladies and gentlemen give of themselves freely, and I guess the Fluvanna County Sheriff's Department chaplain put it best: 'This is what America's about.' You have different people from different backgrounds, different ethnicities coming together in support during a tragic cause," Sheridan said.
Virginia lawmaker Rob Bell said a video of Rigsby's swearing-in was shown. Bell said the video was a reminder that Rigsby "ultimately gave his life for our country."