Nominations open for NFFF's 2021 Arthur J. Glatfelter Distinguished Service Award
The award recognizes individuals or organizations for their contributions to the National Fallen Firefighters Foundation's prevention and support missions
---
By Laura French
CROFTON, Md. — Nominations are now open for the National Fallen Firefighters Foundation's 2021 Arthur J. Glatfelter Award, which recognizes contributions to the NFFF's prevention and support missions. 
The award is named after the late Arthur J. Glatfelter, a philanthropist, founder of the Volunteer Fireman's Insurance Services and co-founder of the Congressional Fire Services Institute. Nominations for individuals or organizations that continue Glatfelter's legacy of support for the NFFF can be submitted through Jan. 15, 2021, the foundation announced this week. Instructions for submitting a nomination form can be found on the NFFF website.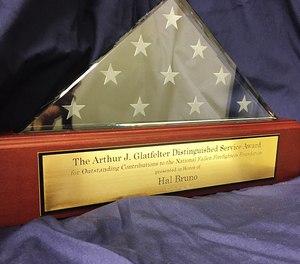 Individuals must be nominated by someone other than themselves and organizations must be nominated by someone who is not a member of the organization. Posthumous nominations are also accepted. 
The narrative section of the submission form should include information about the nominee's support for the NFFF's missions of firefighter fatality prevention and support for fallen firefighters' families and departments. The submission should detail the nominee's significant impact, unique aspects of their leadership and how their contributions have encouraged philanthropic or other substantial support for the NFFF. 
Submissions will be reviewed by the NFFF Board of Directors; recipients of the award will be honored at a future event selected by the foundation.