Paramedic writes poem about Mass. firefighter who died in blaze
Worcester EMS paramedic Sean Doherty penned the poem "December Mourn" in honor of firefighter Christopher Roy
---
December is an especially painful month for the fire service, and for Worcester Fire Department in particular. Christopher Roy's death occurred just days after the city marked 19 years since six city firefighters were killed battling the Cold Storage warehouse fire on Dec. 3, 1999. In 2011, the department lost firefighter Jon Davies in the line of duty on December 8. Please keep the Worcester Fire Department, and these firefighters' families, friends and colleagues in your thoughts in the weeks ahead.
By EMS1 Staff
WORCESTER, Mass. — A paramedic wrote a poem in honor of a firefighter who died in the line of duty.
Boston 25 News reported that Worcester EMS paramedic Sean Doherty penned "December Mourn" to remember Worcester Fire Department firefighter Christopher Roy, who died after being rescued from a fast-moving blaze in an apartment building.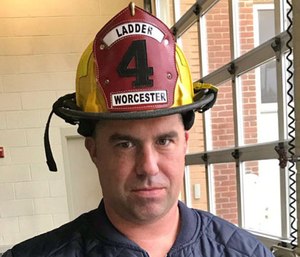 Read the full poem below:
"In the quiet early morning hours while most were fast asleep,
The men of Worcester Fire were awoken with three beeps.
Another night they take the job responding to the tone,
The gear went on, the doors all closed, it's time to save a home.
First crews on scene, the smoke in sight, they hurried right inside,
Not knowing how this night would change, with the blinking of an eye.
At first it was your basic job, like many jobs before,
A stubborn multi-family dwelling, chasing fire through the floors.
Then in a flash, conditions changed
like memories still too near,
The words that echo in our minds, the words we've learned to fear.
"Mayday, Mayday! We can't get out,
we've lost our main egress"
Hearts all dropped and stomachs turned,
there's brothers in distress.
Into action the men all sprang for the brothers they held dear.
All but one then made it out, where Chris was wasn't clear.
The search was on, they pushed and pushed
through flames and smoke so black,
Through pain and sweat, no matter what, they'd get their brother back.
The men of Worcester Fire brought their brother home and fast,
But Chris had joined those gone before,
on a list of heroes passed.
So once again we continue on, though our hearts are heavy and torn.
Our city cries, though we stand strong,
Another cold December mourn."