5 killed, several others 'gravely injured' in shooting at Md. newspaper
A witness tweeted that the gunman shot through the glass door to the office and opened fire on multiple employees
---
Associated Press
ANNAPOLIS, Md. — A gunman opened fire at a newspaper office in Annapolis on Thursday, killing five people and gravely wounding a number of others before being taken into custody in what appeared to be one of the deadliest attacks on journalists in U.S. history, police and witnesses said.
Police gave no immediate details on the gunman or the motive for the attack at The Capital Gazette and said he was being interrogated. Authorities said they also found what they believed to be an explosive device.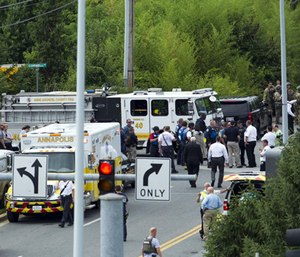 Phil Davis, a reporter who covers courts and crime for the paper, tweeted that the gunman shot out the glass door to the office and fired into the newsroom, sending people scrambling for cover under desks.
"A single shooter shot multiple people at my office, some of whom are dead," he wrote.
Davis added: "There is nothing more terrifying than hearing multiple people get shot while you're under your desk and then hear the gunman reload."
The shooting — which came amid months of unrelenting verbal and online attacks on the "fake news media" from politicians and others — prompted New York City to immediately tighten security at news organizations in the nation's media capital.
The gunman, who officials said was not carrying identification, is believed to have used a shotgun, according to a U.S. official who was briefed on the investigation but not authorized to discuss it publicly and spoke on condition of anonymity.
"The shooter has not been very forthcoming, so we don't have any information yet on motive," Anne Arundel County Executive Steve Schuh said. "To my knowledge, there was no verbal aspect to the incident where he declared his motives or anything else, so at this point we just don't know."
Anne Arundel County Acting Police Chief William Krampf confirmed five deaths and said several others were gravely hurt. At least two hospitals said they received three patients, two of them with minor injuries not caused by gunshots.
Police spokesman Lt. Ryan Frashure said officers raced to the scene, arriving in 60 seconds, and took the gunman into custody without an exchange of gunfire.
About 170 people in all were evacuated from the building as a multitude of police cars and other emergency vehicles converged on the scene. People could be seen leaving the building with their hands up.
The newspaper is part of Capital Gazette Communications, which also publishes the Maryland Gazette and CapitalGazette.com.
In an interview with The Capital Gazette's online site, Davis said it "was like a war zone" inside the newspaper's offices — a situation that would be "hard to describe for a while."
"I'm a police reporter. I write about this stuff — not necessarily to this extent, but shootings and death — all the time," he said. "But as much as I'm going to try to articulate how traumatizing it is to be hiding under your desk, you don't know until you're there and you feel helpless."
Davis told the paper he and others were still hiding under their desks when the gunman stopped firing.
"I don't know why. I don't know why he stopped," he said.
The New York Police Department immediately deployed counterterrorism teams to news organizations around the city in a move police said was prompted not by any specific threat and was instead done as a precaution.
Police could be seen outside The New York Times, ABC News and Fox News early in the evening.
BREAKING: Police: 5 killed, several others 'gravely injured' in shooting at newspaper building in Maryland.

— The Associated Press (@AP) June 28, 2018
Active shooter 888 Bestgate please help us

— Anthony Messenger (@amesscapgaz) June 28, 2018
Gunman shot through the glass door to the office and opened fire on multiple employees. Can't say much more and don't want to declare anyone dead, but it's bad.

— Phil Davis (@PhilDavis_CG) June 28, 2018