FBI aiding investigation into death of La. fire chief's wife
Fire Chief Steve Krentel's wife Nanette was found shot to death and badly burned in July
---
By Sara Pagones, Ashley Rodrigue and Andrew Canulette
The Advocate
ST. TAMMANY PARISH, La. — St. Tammany Parish Sheriff Randy Smith said Wednesday that the FBI has been brought in to help investigate the mysterious death of Nanette Krentel, who was found shot to death and badly burned in July.
Krentel, 49, was married to Steve Krentel, the chief of St. Tammany Fire Protection District No. 12.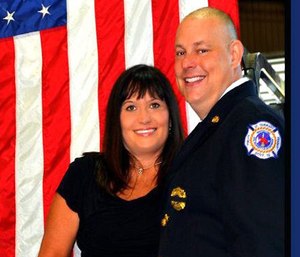 Smith announced last month that the chief has been cleared as a suspect, but little new information has emerged since then.
On Wednesday, Smith's office said federal agents are now assisting with the difficult and lengthy investigation.
"FBI agents have been provided access to the entire case file and are reanalyzing certain pieces of evidence and information obtained during the investigation," Smith said in a news release.
The statement said investigators have gotten closer to pinning down Nanette Krentel's actions before her death and exactly what time she died on July 14, using video evidence from various locations, digital records and witness interviews.
Krentel died from a single gunshot wound to the head before a fire destroyed the couple's house in Lacombe, according to the St. Tammany Parish Coroner's Office.
"Crime scene investigators located firearms near Mrs. Krentel's body," the news release said. "After examining the weapons and projectiles, at least one of the weapons found cannot be ruled out as the weapon used to kill Nanette Krentel."
Dan Watson, Nanette Krentel's father, said Wednesday that he welcomed the FBI's involvement in the case. He previously had asked for federal authorities to join the investigation, and the family also called for an additional autopsy, which was performed.
"(The FBI has) additional resources that they can bring to bear — fresh eyes looking at the evidence," Watson said.
Watson said he knew there were firearms in Steve and Nanette Krentel's house, and he said his daughter "was fearful for her life."
In a previous interview with WWL-TV, Watson said his daughter was afraid of her brother-in-law, Brian Krentel, who had threatened her and her husband over a belief they had contributed to his being sent to prison.
"She had one handgun in her purse, one in the house, one in the vehicle at all times," Watson said. "Plus, she had a shotgun."
Steve Krentel said Wednesday afternoon that he was glad Smith is pulling out all the stops, as he had promised.
"It gives me a level of comfort, knowing that there's an outside agency, a federal agency with vast resources, that is involved," he said.
He was puzzled, however, by the portion of the sheriff's statement that said firearms were located near Krentel's body.
"I didn't totally understand it all," he said. "I know there were weapons in the home, but I don't know why they would be next to her. I'm looking forward to them piecing together what happened and trusting they're doing their job on that."
The statement did not say whether the guns found near Krentel's body belonged to the couple.
Copyright 2017 The Advocate