Fla. fire dept. releases audio of fatal high school shooting
The audio reveals responders scrambling to get the wounded out of the freshman building while not knowing where the shooter was
---
By Nicholas Nehamas And Sarah Blaskey
Miami Herald
CORAL SPRINGS, Fla. — As first responders rushed to the Parkland high school where Nikolas Cruz killed 17 peopleand wounded 15 more, one thing quickly became clear: People were dying.
"This is going to be a big event," a Coral Springs-Parkland Fire Department commander said in newly released audio recordings from the Feb. 14 mass shooting at Marjory Stoneman Douglas High School. "See if I can have somebody up there contact all the area hospitals. Just let them know that we have an incident and we may be sending patients in all directions so they need to start preparing for it. Trauma centers especially."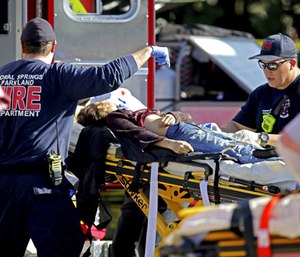 The fire department released the audio Thursday at the request of the Miami Herald, South Florida Sun Sentinel and CNN. The recordings could offer new insight into how well authorities responded to a chaotic scene.
The audio reveals fire-rescue workers scrambling to get the wounded out of the freshman building all while not knowing where Cruz was — and if he might strike again.
"The shooter is not down. The shooter is not down," came a warning across the department's communications channel. "I need you to make sure that you guys are secured behind vehicles."
Several rescuers requested airlifts but were denied because of uncertainty about the shooter's location.
"It has to be by ground. Air rescue is concentrating on the police mission at this point. I will contact out-of-area air rescue though for future patients," an operator said.
In fact, Cruz had already fled campus. But some law enforcement officers thought he was still in the building because security camera footage was being relayed to them on a 20-minute delay.
"The suspect may still be on the third floor of the building," one fire-rescue dispatcher said. "Just to advise."
Time is of the essence in mass shooting situations, especially because of the gaping wounds left by bullets from semi-automatic rifles like the one Cruz used.
"When you have a penetrating injury, a person can bleed out very quickly," Frank Babinec, chief of the Coral Springs-Parkland Fire Department, said last week as the city of Coral Springs signed off on new rules to distribute first-aid kits in public places.
At least one paramedic unit reported being blocked from getting to campus by buses and police cars.
"It's an absolute mess," another unit reported of traffic approaching the school. "PD needs to clear out everything from the Sawgrass north because there is no movement there whatsoever ... It's a zoo."
Although Broward Sheriff's Office deputies were the first law enforcement officers to arrive at the school, they did not immediately enter the building Cruz attacked. That led to national criticism and the resignation of BSO Deputy Scot Peterson, the Stoneman Douglas school resource officer.
The recordings also show confusion between paramedics and law enforcement. One fire-rescue commander said he needed to locate the police command post immediately.
"Here's the situation," a frustrated dispatcher replied. "Broward County is handling this. They have not relayed any information to us where the command post is. We've been attempting to get this information repeatedly."
Police began calling rescue workers directly because they couldn't get through to dispatch.
Adding to the confusion: Rescuers were warned that the suspect had mixed in with other students fleeing the chaos.
The pilot of a Tomahawk helicopter, circling overhead, expressed anguish over the inability to help. "We can't put down the bird yet due to an active hazard," he said.
Eventually, the call went out over the main fire channel: The suspect, a white male wearing a burgundy shirt, black pants, a black hat and carrying a backpack, had been arrested off campus.
The audio recordings are not time-stamped, meaning it's unclear when exactly events took place.
A consortium of news organizations, including the Herald, is suing BSO to release more video footage showing the response of its officers. The Florida Department of Law Enforcement is investigating how the agency handled the shooting.
A judge entered a plea of not guilty for Cruz last month, although his defense attorney has said the former Stoneman Douglas student will plead guilty if prosecutors drop the death penalty.
UNDER PRESSURE
As they worked to save lives, some paramedics and rescue workers were accompanied by officers with long rifles, according to chatter on the fire channel.
Victims were attended by first responders at various locations around the school.
"I've got one shot to the chest right now," said a rescuer. "Looks critical."
His message was followed rat-a-tat-tat by other reports of wounded students ringing out on the channel.
"We have another patient at the command post. [Gunshot wound] to the head. Conscious," another rescuer announced.
The rescue mission command was staged at the school's football field — which was deemed a safe distance away from the massacre — due to the possibility that Cruz could attack again. Ambulances and other trucks were loaded with gunshot victims as they pulled up to the nearby intersection and then were sent speeding off to hospitals.
Other rescuers called for crowd control as parents ran toward the building looking for their kids.
"We're going to need a perimeter around the school," said one.
Copyright 2018 Miami Herald