NIOSH LODD report urges zero-tolerance alcohol policy, proper PPE use
The report found that among the factors that contributed to the firefighter's death were a delay in fire suppression, crew integrity and fireground communications
---
By FireRescue1 Staff
WASHINGTON — Blood alcohol level, crew integrity and fireground communications were among the host of factors that contributed to the April 2015 death of a volunteer firefighter in a residential fire.
NIOSH released its findings last month, which included 9 key recommendations, including establishing a zero-tolerance alcohol policy and ensuring proper use of PPE.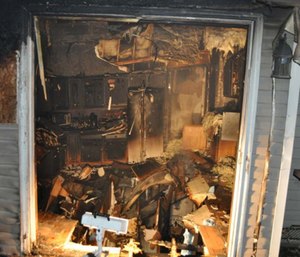 The firefighter died in a floor collapse while he was working above a residential basement fire, according to the report. The local volunteer fire department, a neighboring mutual aid volunteer fire department, county emergency management and a medic unit responded to the fire, with reports of the homeowner inside.
At one point, after rescuing the homeowner, an evacuation order was given and a personnel accountability report was called. All companies gave a positive report. Eventually, the crew realized a firefighter was missing.
The firefighter's body was recovered after the crew noticed a portion of the floor had collapsed and saw a piece of the reflective trim on his turnout gear.
The coroner's report said the firefighter died of asphyxia due to smoke inhalation. They also found his  blood alcohol content was .189
The report listed the following as contributing factors to his death:
Delay in notification to the fire department
Delay in fire suppression
Blood alcohol level above the legal limit
Concealed basement fire
Crew integrity
Self-contained breathing apparatus operation/maintenance
Fireground communications
The recommendations for other fire departments that came out of the report included:
Fire departments should ensure that a fire attack is conducted concurrently with rescue operations and a risk-versus-gain analysis is done after the rescue is completed.
 Fire departments should ensure that officers and fire fighters are trained in current basement fire strategies and tactics.
Fire departments should ensure that a zero-tolerance alcohol policy is established and enforced.
Fire departments should ensure that an accountability system is established prior to entry and personnel accountability reports are accurate.
 Fire departments should ensure that a respiratory protection program is established and maintained.
Fire departments should ensure that SCBAs are functional and maintained in accordance with manufacturer guidelines.
Fire departments should ensure that fire fighters wear proper personal protective equipment on the fireground.
 Fire departments should ensure that a staging area manager is assigned to the staging area to release crews once assignments are given.
NIOSH added that local governments should consider requiring firefighters to be trained to state minimum requirements.
View the full report:
NIOSH LODD report by Ed Praetorian on Scribd