Off-duty FDNY firefighter killed in road rage attack
Police said Faizal Coto, 33, was found lying next to his vehicle with trauma to his head and face after allegedly being beaten with a baseball bat
---
By Esha Ray, Rocco Parascandola and John Annese
New York Daily News
NEW YORK — An enraged gangbanger used a baseball bat to beat to death an off-duty firefighter by the side of a Brooklyn highway early Sunday, police sources said.
Faizal Coto, 33, was found lying near his 2008 Ford Mustang on the eastbound shoulder of the Belt Parkway near Exit 4 in Bath Beach around 4:45 a.m. with trauma to his head and face and some damage to his car, police said.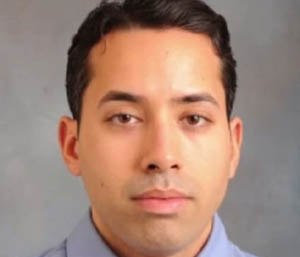 The killer drove off, and police were still looking for him on Sunday night.
Video shows Coto's Mustang bump into a 2006 Infiniti G 35 as the two drove side-by-side, police sources said.
Both drivers got out of their cars and fought, and the suspect hit Coto in the head with a bat, sources said.
Police are now looking for the Infiniti, which is either gray or silver, and carries New York license plate JEA 2402.
Sources say the car is registered to a Latin Kings member with a lengthy criminal record who is on parole after spending time in prison for assault. Police did not release the motorist's name.
Medics rushed Coto to Coney Island Hospital, where he was pronounced dead.
Other drivers saw him lifeless on the ground next to his car, sources said.
He had worked for the FDNY for three years at Engine 245 in Brighton Beach, a department spokesperson said.
"It's a tragedy," said FDNY spokesman James Long.
Coto's colleagues at Engine 245 were reeling over his death, and are determined to support his family, FDNY sources said.
An aspiring musician, Coto rapped under the name Faiya.
"Slowly making a return to my music. I have a ton of ground to make up," he wrote in a Nov. 25 Facebook post. "Your support as always is appreciated. I don't ask for a dime... only that you share. Spread the FAIYA!!!"
Friends mourned Coto's death on social media.
"Bro I dont even know what to say...you were and will always be one of the coolest dudes this side of the galaxy...s.i.p my brother until we meet again," wrote Ramon Zeigler Jr.
One video, posted on the NYC Fire Wire facebook page, shows Coto on a bus, rapping to his fellow smoke eaters about his love for the job and his experience as a probationary firefighters.
"Monday evening, I can't lie, I was nervous. Like 6 p.m. I arrived with a purpose. To be the perfect probie, show you that I deserve this," he raps. "You can call me to work, you can call me a jerk. You need a nozzle? Where's the fire at, I'm going in first."
Gerard Fitzgerald, the head of the Uniformed Firefighters Association, said Coto will be "dearly missed."
"Faizal Coto made a big impact on the job, in only a short amount of time, and was very well liked by his bosses and coworkers for his excellent work," Fitzgerald said.
Copyright 2018 New York Daily News
McClatchy-Tribune News Service