1 of 3 FDNY firefighters seriously injured in fire released from hospital
Friends, family members, colleagues and hospital staffers cheered as Lt. Bill Doody was wheeled out of Staten Island University North Hospital
---
By Elizabeth Keogh
New York Daily News
NEW YORK — An FDNY lieutenant "lucky" to be alive after he was wounded in a massive Staten Island blaze was released from the hospital Wednesday.
Lt. Bill Doody from Ladder 84 was wheeled out of Staten Island University North Hospital as friends, family, colleagues and hospital staff erupted in cheers and well wishes.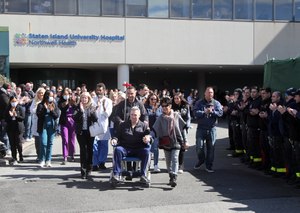 "All the brothers who carried me out of the fire and got me here, all the guys who cooked meals, the guys who came by, all the well wishes and prayers — it's absolutely overwhelming," Doody said with his family by his side.
He was one of three firefighters seriously injured in the inferno that tore through a pair of homes in a Staten Island duplex on Shotwell Ave. near Waring Ave. in Arden Heights on Feb. 17, officials said.
All three were taken to the Staten Island hospital.
"I can't say enough about the care they give throughout our department when we have members here, which is unfortunately quite often," FDNY Chief of Department John Hodgens said outside the hospital Wednesday. "Billy was one of the more severely injured members [and] today is a great day as he leaves the hospital."
Doody underwent two surgeries while he was hospitalized, including skin grafts.
"Firefighter Doody is very lucky, he was literally standing in a burst of flames," said Dr. Michael Leslie Cooper, a plastic surgeon affiliated with the hospital. "Recovery was not easy. It's a lot of pain involved with removing the burned tissue."
Last month's fire, which was strengthened by strong winds on the wintry day, left 19 other firefighters with minor injuries.
"My joke is if I knew I would've been treated this well, I would've gotten burned years ago," Doody quipped.
©2023 New York Daily News.
Visit nydailynews.com.
Distributed by Tribune Content Agency, LLC.
McClatchy-Tribune News Service