Book excerpt: 'Sister in a Brotherhood: Stories from My Life as a Female Firefighter'
Retired Captain Cindie Schooner-Ball offers readers a woman's perspective on working in this male-dominated profession
---
In "Sister in a Brotherhood: Stories from My Life as a Female Firefighter," Captain (ret.) Cindie Schooner-Ball offers readers a woman's perspective on working in this male-dominated profession.
The following excerpt is from Chapter 3: Nerves of Steel and Laser Focus. It highlights the stressors triggered by the unique physical, emotional and psychological demands placed on female recruits during the rigorous initiation and training.
By Cindie Schooner-Ball
Stay calm, cool, and focused. Project confidence, even when you're not feeling it. None of them – not your fellow trainees or your instructors – know who you are or what you're made of yet. And you don't know them, either. I learned quickly that the toughest-looking, most intimidating bad-ass can just as easily turn out to be the biggest whiner or your best advocate.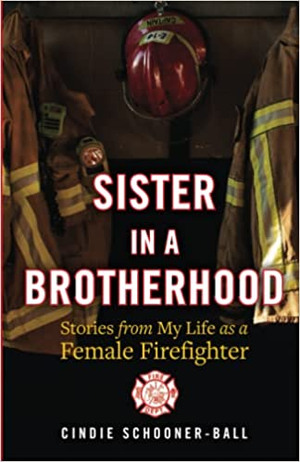 Trust me when I tell you that you will learn very quickly who has your back and who will throw you under the bus for their own selfish gain. As a woman in the field, I also learned quickly that some of my colleagues believed strength, courage, tenacity, and resolution could only come in a six-foot male package. That was the case throughout the course of my career, and I know it's still the case today. Some of those colleagues will try and charm you, wanting to get to know you on a more personal level, and others will make it clear they think women are better equipped to stay in the kitchen than the firehouse. That is nonsense, of course – just their own insecurities showing. Nonetheless, it takes significant inner strength not to let them get to you.
Fire academy was tough, but I loved every bit of it. To me, passing the state exam and receiving my State of Florida Fire Certificate was a miracle. But if I thought that training was hard, boy, was I in for a rude awakening…
Our recruit class consisted of nine men and two women knowing how hard it was going to be – and how much harder we'd have to work to prove ourselves – the other female and I made a pact with each other to never cry or whine outside of the confines of the women's bathroom.
And we never did.
About the Author
Cindie Schooner-Ball began her career as a first responder with the fire service in the mid-1980s. She recognized early on that to succeed as both a firefighter and a woman in a mostly male workplace would require perseverance, grit and the ability to command respect. Over her three-decade career, she pushed herself to tackle new challenges and rise into leadership positions. She became an EMT and then a paramedic, while also earning a degree in fire science. When she finally achieved the rank of captain, she was the only woman at the induction ceremony. Now retired, Schooner-Ball loves speaking to people about her experiences as a first responder and as a woman in a male-dominated industry.
'Sister in a Brotherhood: Stories from My Life as a Female Firefighter'
Purchase on Amazon
Learn more: https://sisterinabrotherhood.com/
Publisher: KC Books
© 2022 by Cindie Schooner-Ball