Celebrating International Women's Day in the fire service
During a month dedicated to recognizing the experiences, nuance and unique perspective women provide, FireRescue1 takes a look at how women have impacted the fire service
---
It is Women's History Month, and March 8 is International Women's Day. According to a 2018 study by the National Fire Protection Association (NFPA), 11% of all firefighters – both career and volunteer – are female.
Despite making up a small portion of fire service members, women have climbed the ladder, both literally and figuratively, and made a lasting impact on the industry. Additionally, fire leaders across the country are looking to make changes to policies, logistics and traditions that are inclusive of all genders.
Take a look at some of the incredible achievements made by women in the fire service over the last year, from the selection of a female fire captain to perform at the presidential inauguration ceremonies, to the first female to be named president of the International Association of Black Professional Firefighters, and be on the lookout for more barrier-breaking stories in the year ahead.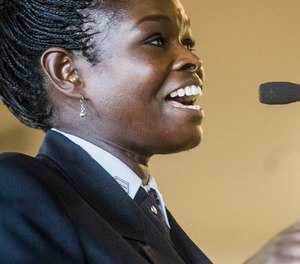 South Fulton County (Ga.) Fire Capt. Andrea Hall was selected by the IAFF at the request of the presidential transition team to lead the nation in the Pledge of Allegiance at the Presidential Inauguration of Joe Biden on Jan. 20. 
"We've all come from some place and made this place our home, and what better way for us to demonstrate our love and allegiance to this country than by saying those 31 words – together."
Listen as Capt. Andrea Hall describes the emotions of the day in her own words. 
Flint (Mich.) Fire Department Deputy Chief Carrie Edwards-Clemons was recently named the first female president of the International Association of Black Professional Firefighters, or IABPFF.
"I am humbled that you would place your faith and your trust in me as president," said Edwards-Clemons during an Aug. 14 virtual swearing-in ceremony. "I do not take this responsibility lightly."
As a third-generation volunteer firefighter, Fire Chief Judy Thill's view of fire service is shaped by the memories of being at the fire station with her father. She thinks many people do not realize that often it is the volunteer, non-career firefighters who pull out the burned and mangled bodies.
"This is the thing that hits me," she explains. "I care for these firefighters. They are my family. Knowing how much they do, what they have to deal with, and sometimes how little recognition they get … it is frustrating for me and the main reason I joined the National Volunteer Fire Council."
FireRescue1 columnist Robert Avsec spoke with four women about their cancer diagnoses, and what it was like to go through treatment while serving. 
Jennifer Dawkins – Vancouver (British Columbia) Fire Rescue Services
Tina Guiler – Miami Metro-Dade Fire Rescue
Cathy McCray – Loudon County (Virginia) Fire Rescue
Laura Baker – Tucson (Arizona) Fire Department
While research and new treatments are improving survival rates and quality of life (the five-year relative survival rate for women with localized breast cancer is 90%), a cancer diagnosis is still a tremendous shock to the system, as we hear from these firefighters.
For the first time in 30 years, the Hammond Fire Department has hired a female firefighter/paramedic.
Jaclyn Seberger, 29, of Lowell, is only the fourth female to be hired by the department in its history — and the first to be hired on since 1990.
"I hope women see that it can be done," Seberger said in an interview with local press. 
Marietta Fire Department has a new deputy chief: Christi Malec, who has been promoted from assistant chief of the department.
"I'm honored to serve the City of Marietta and citizens in my new role," Malec said in a statement. "Through my experience and dedication to the Marietta Fire Department, I am humbled by the opportunity I have been given to lead such an outstanding group of men and women."
Amanda Scoggin broke down barriers with her latest promotion to fire engineer, a first for the Panama City Fire Department.
While she recognizes she's the only woman who has been promoted to fire engineer at the department, she doesn't feel like she's paved the way.
"I think it's not because a lot of (women) have tried and failed, I think there hasn't been that many that have tried," Scoggin said. "The job of a firefighter itself is a hard job, so there isn't a lot women in the fire service, but if you can do the job and want to, I think it's a good idea to join the fire service."
This article, originally published on March, 2020, has been updated.