Firefighters reflect on deadly Tenn. wildfire
One firefighter said that despite getting little sleep, crews are "ready to do whatever needs to be done"
---
By Rachel Ohm
Knoxville News-Sentinel
GATLINBURG, Tenn. — First responders and firefighters sought some early morning respite Thursday at Rocky Top Sports World, as many of them prepared to continue efforts to control wildfires in Sevier County.
"I'm happy to be helping out any way I can, just like all the volunteers here," said Diego Munguia, a firefighter with the Sevier County Fire Department, finishing up a 12-hour shift around 6:30 a.m. Thursday. "We'll get our rest when we get our rest."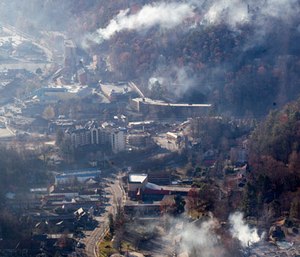 Munguia and his supervisor, Lt. Stephanie Specht, said there's no telling how long they might be in Gatlinburg, where their department arrived on Monday.
"We'll be here until we're not needed," Specht said.
Lt. Stephanie Mason of the Tri-Community Fire Department in Collegedale also said it's hard to predict when firefighters will be finished working.
"I'm happy to be here," Mason said. "We didn't sleep much, but we're ready to do whatever needs to be done."
Mason said that while large fires are mostly out, there are a lot of hot spots that have rekindled. Around 6:30 a.m., she was sitting in the make-shift shelter at Rocky Top waiting for word on whether her unit would be sent out again Thursday morning.
"Everyone here has been really helpful," she said. "They're very supportive."
Officials have said the Gatlinburg wildfire is the worst in Tennessee in a century. The death toll has risen to seven, with 53 treated for fire-related injuries at LeConte Medical Center and three others taken to Vanderbilt University Medical Center in Nashville.
Gatlinburg was evacuated and more than 14,000 people were displaced.
Fire officials said more than 700 houses and businesses were damaged or destroyed, including about 300 buildings inside the Gatlinburg city limits and another 400 in neighboring Pigeon Forge and outlying unincorporated communities.
That's on top of more than 15,700 acres consumed in the nearby Great Smoky Mountains National Park, where the blaze began last week in the remote Chimney Tops area.