How to become a fire department ocean lifeguard
The requirements and testing vary from department to department; here's a breakdown of the not-so-easy process
---
In 2015, firefighting was named the most stressful job in the United States. Researchers said most of the stress originated from the physically dangerous and psychologically taxing nature of firefighting.
Being an ocean lifeguard for a fire department wasn't on the list, but it's likely just as risky and strenuous. For those that live near the ocean, you might already be an ocean lifeguard or you are considering becoming one.
Like becoming a firefighter, the process to become an ocean lifeguard is no easy feat and very competitive.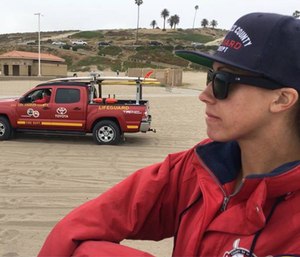 Requirements to become an ocean lifeguard vary from department to department, but most must:  
Be 18 years old by the first day of academy
Have a high school diploma or GED
Have a valid driver's license
Have vision correctable to 20/40
Have functional color vision
Have normal hearing
OCEAN LIFEGUARD Exam process
If applicable, you can sign up to become an ocean lifeguard through your local fire department's website. Most job postings go up at the end of summer in August or September. If you're interested, be sure to sign up as soon as you can. The competition and number of applicants is steep.
In L.A. County, which has the largest professional lifeguard service in the world, it's recommended that those interested in becoming an ocean lifeguard train about six months prior to the exam. Swimming three to five days a week – preferably in the ocean – is also advised.
The exam process in L.A. County consists of three parts:
1. Evaluation of training and experience based on responses to a questionnaire
2. Multiple choice test on confidence, safety judgement and safety orientation
3. A 1,000-meter ocean swim
You must be in the best swimming shape possible in order to beat out the hundreds – maybe even thousands – of other applicants.
In other states, such as Brevard County, Florida, ocean rescue candidates are required to swim 500 yards in less than 10 minutes, complete a one-mile run on a track in less than 10 minutes and perform a physical agility test. Carolina Beach, North Carolina requires its ocean rescue lifeguards to complete a 500-meter swim in 10 minutes or less and a one-mile beach run in 10 minutes or less.
The next step to becoming an ocean lifeguard 
Most departments will then run a background check and require their candidates to schedule a physical exam for vision, hearing and fitness testing. 
And after you've made it through the stages above – depending on your department – you'll most likely attend a lifeguard training academy.
In L.A. County, their lifeguard training academy is a 100-hour course held over five consecutive weekends. Candidates, who are paid while training, learn about ocean dynamics, rescues, first-aid, rescue operations and more.
In Brevard County, candidates, who are also paid while training, go through their lifeguard training academy over six consecutive weekends.
Once you complete your lifeguard training academy, you will then officially be an ocean lifeguard.
Ocean lifeguard pay, schedules
But just like the requirements and testing vary from department to department, so do schedules and pay. In L.A. County, you can choose to either work a summer schedule or be available on a day by day basis. Summer schedules are full-time and peak season is from the last week in June through the first week in September.
However, in L.A. County, by passing the academy you become a recurrent lifeguard. In return, you can work on an as-needed basis when not in season. If you wanted to work full-time, year-round, you could test to become an ocean lifeguard specialist.
The Town of Wrightsville Beach, North Carolina, staffs full-time firefighter-EMTs in their ocean rescue squad from Memorial Day through Labor Day. Ocean Rescue Teams are on their stands from 10 a.m. to 5 p.m. every day of the week.
Here's a snapshot of starting pay based on different departments around the U.S.:
L.A. County: $24.67 per hour or $27.49 per hour with an EMT certification
Carolina Beach, N.C.: $10.50 per hour
Brevard County, Fla.: $9.89 per hour
Laguna Beach, Calif.: $19.44 to $21.73 per hour
Town of Oyster Bay, N.Y.: $12 to $14 per hour
North Myrtle Beach, S.C.: $10 per hour
If you're looking to switch up your normal routine, then becoming an ocean lifeguard may be something worth looking into. It's not an easy feat, but you already know that from becoming a firefighter.
You can still train hard and save lives – just in the water instead of in a burning building.