4 roles of a great company officer
So you want to be a fire officer? Here are the four key roles you will need to play
---
Your fellow firefighters all come to you regardless of years or seniority. You are good at getting people out of tangled wreckage or coordinating a knockdown.
Is your next step to supervise the work being done and coordinate it with the rest of the organization? Are you starting to think you may be ready for that lieutenant's exam?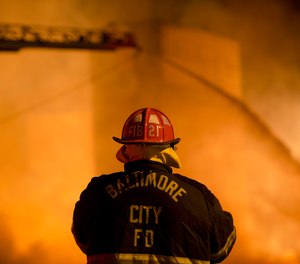 As an aspiring officer candidate, be aware that a fire officer's primary role is that of decision maker. Being a good decision maker is the consistent, demanding and ever-changing role. The good news is there are many fine lessons to prepare you for this work.
The real challenge, however, is handling the other roles you will be asked to take on in the course of your duties. These roles are not fully defined in any study guide or training manual, but are critical to your achievement, the progress of your crew and the overall success of your department.
Here are four roles you will be expected to undertake as the next officer in your department.
1. Decision maker
As an officer, your decisions are the tools of your assignments. Gone are the spreaders, concrete saws and med bags over the shoulder. No more triangle chops on the roof.
Clearly, if you are taking the lead on tasks, then the incident is at a higher risk than standard operations dictate. When working a task, overview, scene safety, situational awareness and change of environment are all diminished.
Being an officer means being responsible for keeping everyone safe by making good decisions and arranging those decisions in such a manner as to use appropriate on-scene team tactics.
2. Pacifier
As pacifier you take on the role of an understanding parent, mediator, coach or priest. You are leading the lives of firefighters. You are now head of a family. It is your job to mollify anger and settle arguments.
By dialing down any situation, you control it. And control is half the command and control model. Whether you are on the fireground or in the station, your path to greater effectiveness is as peacemaker.
Borne out of respect and self-confidence, you are reflected in the personality of your shift, those in your charge, regardless of situation or circumstance. Consistency, strength of character and compassion are called upon every day. Command is best initiated from an even keel.
3. Instigator
To instigate as an officer is to begin, supervise and reward. Every crew member should have a realistic and workable project within the framework of expected duties.
Such actions will eventually require individual performance reviews, including a 360-degree "badges on the table" evaluation. All of this crew interaction is used to establish tangible goals and the support needed to finalize them.
As an instigator, you begin projects, encourage progress and share your vision. You do not begin gossip, misinformation or a bad day. There is no advantage in encouraging bad behavior in any form, at any time or for any excuse.
As an officer, you do not have the luxury of a poor performance by anyone. You can never be as low or down-hearted as the lowest or as cocky and carefree as the best. You listen and level. Gain speed and elevate their spirits.
At the same time, steer the great ones toward becoming better firefighters and helping others in the crew do the same. Your success is to promote their success.
4. Rectifier
To act as a rectifier is the most difficult of the officer strategies to discern and repeat. The power to change means having an understanding of fellow firefighter and a command of regulatory obligations.
You have to know what to do and how to do it by the book — and more importantly, when to put the book down. Your challenge is to fix what is broken by resolve or repair and still keep it within the administrative guidelines.
Rectification is about small changes, the ones that take time to take hold. It is about listening and gleaning the best from everyone in your crew to promote a safe and solid response capability — again, all within the department's boundaries.
The decision to become an officer must come with a strong work ethic, technical and social skills and a solid talent for mixing safety with adrenaline. No two entry paths into officer's role are alike, but there are numerous strategies you can study and apply with confidence to become a good officer.  
As a solid firefighter you can go interior or take the lead on individual tasks. You know what it takes to mask up and kneel down — be ready to work. The real question is: can you make good decisions in that environment?
For lieutenants and captains, the answer is yes for obvious reasons. You train and educate yourself on the rigors of command, gaining an understanding of positive pressure placement, thermal layering and the various truck and rescue responsibilities — all in addition to directing personnel.
Battalion chiefs and higher are assigned a larger strategy map than the floor or apartment that the new lieutenants are attacking and overhauling. As a lieutenant, you have to be one decision ahead of the strategy and as a captain you have to execute a leap of two or three.
A chief officer anticipates multiple outcomes and prays for one.
As much as studied skill sets and rigorous qualifications are critical to officer achievement, knowing your various roles as a complete human being will help in formulating one of the most important decisions you will make in your firefighting career: to become an officer.
This article, originally published on June 1, 2016, has been updated.