Fire chief resigns, citing 'violent' community
The 22-year-old Kingsville, Ohio, chief was reportedly threatened at public meetings; residents had complained he was too young and an outsider
---
Brian Haytcher
Star Beacon, Ashtabula, Ohio
KINGSVILLE TOWNSHIP, Ohio — Fire Chief Jesse Sopko has presented his letter of resignation to the township trustees, citing the "violent nature of the community" as his reason for leaving.
Sopko was hired in June of last year, replacing the township's volunteer fire chief. Since then, Sopko has been a repeated target for residents' frustrations at public meetings. His resignation will be effective on Feb. 8. Sopko was threatened at meetings, according to an email that Trustee Jim Branch sent to area residents.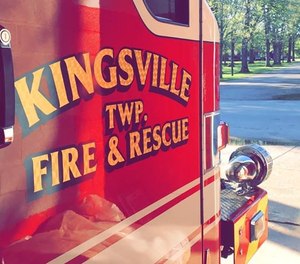 "There is no just cause for any resident of Kingsville Township to approach these department heads and trustees with such hostility and disapproval," Sopko wrote in his letter. "I feel that the residents of Kingsville should be appreciative of the representatives they have and the department heads they did have."
Sopko's decision came as a shock to some in the township.
"From my perspective, it was a complete surprise," said Karl Brunell, Chairman of the Kingsville Trustees.
Dave West, who is currently a captain with the fire department, was appointed the interim Fire Chief, effective after Sopko's departure. Trustees also extended an offer to West for the chief's position. Under the terms of the deal, West would have time to receive his paramedic certification, which is a requirement of the full-time position.
The full-time job had been offered to former volunteer chief Neal Stewart, who declined the job. After he did, Sopko was hired.
Trustees were happy with Sopko's work, Brunell said.
Sopko applied for and received a grant for new gloves, hoods, and a washing machine from the Bureau of Workers Compensation, intended to reduce firefighters' exposure to cancer-causing chemicals. He also arranged for the purchase of new turn-out gear for the department.
Sopko also developed a vehicle replacement plan, and set up a preventative maintenance plan for the department's vehicles and critical equipment, Branch said.
Residents complained about Sopko for various reasons, including his age, 22, and the fact that he is not from Kingsville. Sopko is from Madison. Sopko has been falsely accused of not knowing his way around the area.
"They just wouldn't let it go," Brunell said.
He added that the people complaining about Sopko are a small percentage of the community. Brunell said 90 to 95 percent of the community was pleased with his job performance.
"Under Chief Sopko, we have not received any complaints, grievances, or citations from residents or overseeing agencies directly involved in fire and EMS calls," Branch said.
———
©2020 the Star Beacon (Ashtabula, Ohio)
McClatchy-Tribune News Service