IAFC, VCOS release report on firefighter behavioral health
The report raises awareness of emotional and behavioral health problems as well as the importance of changing culture
---
FAIRFAX, Va. — The International Association of Fire Chiefs (IAFC) and the IAFC Volunteer and Combination Officers Section (VCOS) today released a Yellow Ribbon Report exploring emotional and behavioral health issues in the fire and emergency service.
"Under the Helmet – Performing an Internal Size-up: A Proactive Approach to Ensuring Mental Wellness" brings awareness about the fire and emergency services' emotional and behavioral health problem and emphasizes the importance of changing the culture. The 42-page report contains background information, statistics, resources, and action items for departments to use to ensure the mental wellness of their members. It was developed with the leadership from VCOS in collaboration with several fire service organizations, researchers, and other members of the fire service.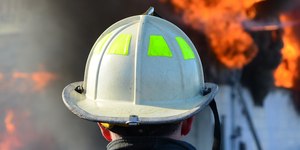 Chief John Sinclair, IAFC president and chairman of the board, commended VCOS and the other fire service and research partners who came together to develop this report.
"Much like we have a duty to serve our communities, we have a duty to serve one another," Chief Sinclair said. "We must look out for each other unremittingly, not just on the fireground or at the station. It is imperative that we are able to identify the signs of stress and the behaviors resulting from cumulative stress overload."
Chief Chuck Flynn, VCOS vice chair and lead on the project, said "My hope is that the Yellow Ribbon Report sparks some conversations in the fire and emergency services organizations, in which we serve," Flynn said. "It is time we acknowledge and truly understand the ongoing emotional impact our public safety role has on our health, well-being, and relationships. After all, sometimes lives depend on it."
Chief Flynn acknowledged Chief John M. Buckman, III, for his direction and writing contribution. Chief Buckman is a member of the FireRescueOne Editorial Advisory Board.
The IAFC Safety, Health and Survival Section and the Emergency Behavioral Health Alliance contributed to this report. The free report will be available during Fire-Rescue International, July 26-29, in Charlotte, N.C. and online at IAFC.org/VCOS.
IAFC VCOS Yellow Ribbon Report by Ed Praetorian on Scribd