Learning firefighting from a legend
Chief Richard Tucker was cold and stern, like a cross between Bobby Knight and Clint Eastwood, and his words were sharp and to the point
---
By Billy Galvin
When I became a firefighter, I started at my local fire department in Marine City, Mich. It is a small town on the shores of the St. Clair River where no one is a stranger and everyone knows your name. It's where I was born and raised and where I still live to this day.
Known for its aggressive nature and dedication, this department was unique for the area and the driving force was one single man. That man's name is Richard Tucker — but you can call him Chief — and he has served this department for over 40 years. I first met Chief at my department interview. He was cold and stern like a cross between Bobby Knight and Clint Eastwood, and his words were sharp and to the point.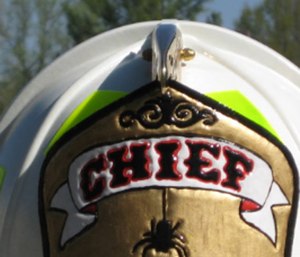 Chief was also born and raised in Marine City and held his town in high regard. I watched this man put everything he had into protecting the people and property of Marine City. His job as fire chief required that he be at the station during regular business hours on Monday through Friday. That wasn't enough for Chief. He rarely missed a call, maintaining a 97 percent average for runs throughout his career.
This required great sacrifice from his family as well, especially from his loving wife Jane who I don't think ever left the city limits until his retirement. They had three children, one who later became a firefighter in a neighboring city.
The people of the town all knew Chief, and they all knew his dedication. It was not uncommon to see him training at all hours of the night. The man lives in his turnout gear and to this day he still trains harder than anyone I have ever met.
Last year, Chief retired from his full-time position, but of course he stayed on as an on-call firefighter. He also, on occasion, has come down to Highland Park and fought fires with the boys of HP. On one of these nights we caught a pallet factory fire, four separate garage fires, then capped the evening off with a ripping building fire.
I will never forget when he looked at me as the news helicopters were flying overhead and said, "I hope my wife doesn't see this. She'll be worried." And yes, she did see it on the news, and yes, she was worried.
The guys at my station love Chief and they pick his brain every time he comes down.
I think it speaks volumes when a man can come into a place like Highland Park and have the firefighters gather around him like children at story time.
To this day if I run into problems on the job — from a stalling saw to a failing pump — I know I can still call Chief, and he'll always know what to do. He has been my mentor and counselor over the years and I don't know what I would do without him.
Every year in Marine City, we would make a department goal for ourselves. My last goal was to someday have Chief think I was a great firefighter. I never have set another goal because till this day it has remained the same. Men like Chief are a dying breed and I believe it is important to hear their wise words and take their input. I know I will keep tapping into that old firefighter's head at least for as long as he lets me or until he loses his marbles — in which case he made me promise that I would push him off a cliff. Only kidding!
Someday when we look back on our careers I think we'd be lucky if we were considered great among our peers. Then there are a select few like Chief, who at the end are their career surpass greatness. These people raise the bar with their intensity and dedication. These men are the legends.