NH interim fire chief steps into permanent role
Lawrence Best, a 30-year fire veteran, said his goal is to "continue to provide the level of service" the community requires
---
By Paul Tennant
The Eagle-Tribune
SALEM, N.H. — One could say the Best candidate has been appointed fire chief.
Lawrence Best, a veteran firefighter with more than 30 years of experience, has served as acting chief of the Salem Fire Department since Paul Parisi left to become the state fire marshal.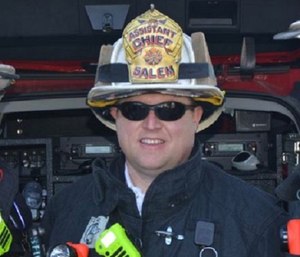 Town Manager Christopher Dillon announced his appointment of Best on Wednesday.
Best, 47, was appointed a firefighter/emergency medical technician for Salem in 2003. He was promoted to lieutenant, captain and then assistant chief before he was named acting head of the department.
Now that he has the permanent position, he said his goal is to "continue to provide the level of service" the community requires. He noted Salem's population has grown considerably over the years and continues to increase.
The town now has three fire stations and will have to consider building a fourth, he said. There are no fire stations west of Route 28, he pointed out.
"It's a humbling feeling," he said of being appointed fire chief. He said he is pleased the town manager had enough confidence in him to lead the Fire Department, which employs 69 firefighters plus building, health and electrical inspectors, fire prevention officers and dispatchers.
About 90 people are under Best's supervision.
Best began his career as a volunteer firefighter in his hometown, Meriden, in 1987. Before being hired by Salem, Best served with the Laconia and Durham fire departments and also worked for Golden Cross Ambulance of Claremont.
He earned a bachelor of science in fire and emergency management at Rivier College and has more than a dozen fire standards and training certifications. Best is a nationally registered and New Hampshire-licensed advanced emergency medical technician.
He will officially become the new permanent fire chief Sunday.
Copyright 2018 The Eagle-Tribune