Past Fire Chief of the Year winners reflect on award, what set them apart
Chiefs Mary Beth Michos and Chris Barron break down what it takes to be Fire Chief of the Year material and what they've been doing since they won their awards
---
Becoming a fire chief is no easy task. It takes years of dedication, blood, sweat and tears to rise through the ranks. And, yes, it also requires a significant time commitment to the job and the organization.
Chiefs Mary Beth Michos and Chris Barron – past International Association of Fire Chiefs Fire Chief of the Year award winners – understand this path to the top all too well.
Michos, who won the 2003 award for Career Fire Chief of the Year, served as chief with Prince William County (Va.) Fire and Rescue for 13 years. Michos started her career as a registered nurse before she was hired by the Montgomery County (Md.) Department of Fire and Rescue Services, where she served for over 21 years. She rose through the ranks to assistant chief before she left to become chief in Prince William County.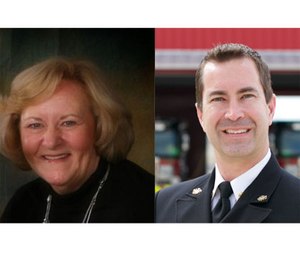 Barron, who won the 2014 award for Volunteer Fire Chief of the Year, has been chief at Travis County (Texas) Emergency Services District #5 for 17 years and in the fire service for 27 years. He became one of youngest elected chiefs in Texas at age 22.
I interviewed Chiefs Michos and Barron and asked what they have been doing since they won the awards, what crowning achievement made them stand out from other nominees and their advice on what it takes to become Fire Chief of the Year.
Don't forget – the deadline to nominate a chief for this year's award is May 20. Learn more about how to nominate a chief here. Past Fire Chief of the Year award winners can also be viewed here.
What made you stand out from the other nominees?
Chief Michos: First of all, I had a record for being a successful fire chief. To me, that's the most important thing if you want to become Fire Chief of the Year. You have to have a successful record. I came into a system where there was a lot of conflict. I was able to make progress and turn the ship around to get career and volunteers to work better together. The other thing was that throughout most of my career I have been very involved with the fire service as a whole – even beyond my department. Because I came from EMS, I was an advocate for fire-based EMS for a long time before it really got to be the "in thing." When I was a captain, I got very involved with the IAFC. I had a huge network; I think the fact that I was not only being successful locally, but that I was giving back to the service on a national level also helped a lot.
Chief Barron: I think by successfully taking my department from an all-volunteer to a combination department and surviving that transition. And while doing that, we still provided an excellent customer service – not only to our customers, but to our governing boards – that was also a big component of that. We made this transition to provide a better service. Another thing that helped me was that I worked for the service full-time at the state level and we impact the laws affecting the fire service and firefighters.
What does it take to be Chief of the Year material?
Chief Michos: It's someone who can show that they have moved their department forward. We've been through some very trying times as a fire service. It's someone who has a track record of being in some tough situations and, as a result, has been successful in managing them. It also needs to be someone who has given back to their community as well as the fire service.
Chief Barron: I feel that a nominee and award winner must possess qualities to which the award is representing and to which the award winner lives by. I feel the award winner must carry those qualities of leadership, service, integrity, honor and personal sacrifices not only in the workplace but also at home.
What's the single most important characteristic a fire chief should have?
Chief Michos: Integrity. You have to do what you say you're going to do, whether it be within your department or community. That's the only way to build trust, which is so important when you're in a leadership role like that. You have to be out there, letting people know what you think and believe. Along with that, you have to have the courage to do the right thing – even if it's the hard thing to do and it's going to put you at risk. You also have to be compassionate by caring for the people that you work with and the people in your community. It may sound easy, but it's a lot harder to do that. When you're a leader of the department, you have to make sure you have that characteristic so you treat people fairly, encourage diversity and inclusion, and you appreciate that your people have another life outside the fire service. You need to communicate well and listen to people.
Chief Barron: Integrity. I think that as long as a fire chief is truthful, has strong moral principles, honor, does things by the book, and is ethical will result in quality leadership, respect and putting a great team together.​
What's the funniest or most profound memory you have of winning?
Chief Michos: As I was being presented with the award on stage – I don't know if I fumbled it or if I wasn't in place when they let it go – I almost dropped it but I caught it before it fell on the floor. From a profound standpoint, I shared the award with my department when I won it. I think I had the greatest department that I could have had. I had a fantastic group of people. We were a combination system, and we had very dedicated members. They made me look forward to going to work every day and I miss them every day. When you win Chief of the Year, there are a lot of people there with you getting that award and recognition. You need to share it with them. None of us get there without the people who helped us.
Chief Barron: As far as my most profound memory, it was the people who came up to me after the award ceremony – some I didn't even know – who congratulated me and shook my hand. It was almost like a celebrity-type status. People were recognizing me from the cameras and it was just really cool. It was a great feeling.
What have you been doing since you won the award?
Chief Michos: I continued as fire chief until 2007 and then I retired. In 2007, I was offered the position of chief operating officer with the IAFC and that was too good of an opportunity to pass up. Around 2013, my daughter had my granddaughter and I hit a point where I thought I should go part-time with the IAFC and I did. Since then, I've been working with the Fire Service Executive Development Institute. The program trains individuals who are aspiring to be fire chiefs or brand-new fire chiefs so that they can be successful in their tenure.
Chief Barron: I get a lot of calls for advice on how we do things. Since winning the award, I've been continuing to learn and set goals for myself as well as the department. Staying on top of the latest trends in the fire service, safety practices and new projects that we're implementing in our fire department is a daily activity. We continue to strive for success and to exceed our customers' expectations. Right now, we're focusing on obtaining an ISO Class 1 rating. There's always a project or goal in mind; it's non-stop.
If you would like to nominate someone for Fire Chief of the Year, follow the directions here.