Va. city appoints its first black permanent fire chief
Alexandria Fire Chief Corey A. Smedley was promoted on Monday after serving as acting fire chief for six months
---
By FireRescue1 Staff
ALEXANDRIA, Va. — A Virginia city's acting fire chief has been promoted to permanent fire chief, making him the first African American to hold the position.
Alexandria Fire Chief Corey A. Smedley was chosen for the position after a competitive national recruitment effort, according to a news release published Monday.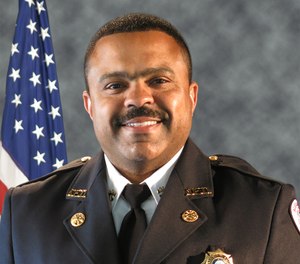 Smedley joined the Alexandria Fire Department in 2015 as deputy fire chief of emergency management and homeland security and has served as acting fire chief since the retirement of Chief Robert C. Dubé in June.
Previously, Smedley was the deputy chief of Prince George's County Fire/EMS Department in Maryland, where he had worked for 20 years.
During his time in Alexandria, Smedley has led the launch of the city's Emergency Operations Center, worked with local agencies to provide training for public safety personnel, implemented increased minimum staffing on fire engines and centralized the Fire Marshal's Office.
"Throughout his 25-year career, Chief Smedley has been involved in nearly every aspect of fire and emergency medical services," City Manager Mark B. Jinks said. "His leadership, both within the Fire Department and with our community and regional partners, shows he has the necessary qualities and experience to lead our Fire Department into the next decade."