Veteran firefighter tapped as new Oakland fire chief
Darin White has been interim chief for the last nine months, taking over after Chief Teresa Deloach Reed retired following the Ghost Ship fire
---
By Kimberly Veklerov
San Francisco Chronicle
OAKLAND, Calif. — Darin White, the interim chief who has been leading the Oakland Fire Department for the past nine months, was appointed to the permanent post Thursday.
Mayor Libby Schaaf and City Administrator Sabrina Landreth's selection of White as Oakland's fire chief comes five months after Chief Teresa Deloach Reed retired in May. White's appointment was unveiled as some of the state's most destructive and deadly wildfires smoldered to the north and amid union negotiations with firefighters.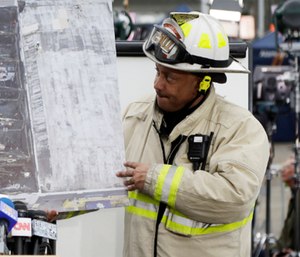 "I am excited that I have been chosen to lead the Oakland Fire Department in its ongoing goal of delivering the most responsive and highest-caliber service that can be expected of fire service professionals," White said in a statement. "I am also grateful for the many individuals in the Oakland Fire Department, community members, and City leaders who continue to work hard to ensure that our transition is a success. It is because of their tireless efforts, demonstrated passion, and commitment to improvement that our progress will continue."
White, 49, a lifelong Oakland resident, has a "reputation for being accessible, honest, and transparent" and an "inspiring demeanor," Schaaf said in a statement.
He led the department alongside Mark Hoffmann for several months before and after Reed's retirement May 5. White's embattled predecessor had gone on and off leave after the Dec. 2 Ghost Ship warehouse fire that killed 36.
Dan Robertson, president of the main union representing firefighters, said he is pleased to see someone rise up through the ranks.
"We wish Darin the best of luck, and we'll continue to work with our fire chief to move the department forward," Robertson said.
White previously served as deputy chief of field operations — a role that, among other duties, involved managing training for mass-casualty disasters. Before the assignment, he was a battalion chief for seven years, in charge of the special operations program that included aircraft and water rescues and the hazardous materials team.
White, who spent two-thirds of his 30-year firefighting career with the Oakland department, graduated from Colorado State University with a bachelor's degree in fire and emergency services administration and later served as president of the operations section of the Alameda County Fire Chiefs Association.
White will be sworn in Friday during a ceremony in Schaaf's office.
Copyright 2017 San Francisco Chronicle