Chicago Fire: The story behind TV's newest firefighting show
Coming off the heels of "Rescue Me," producers dish about how the show will give a different and "real" look at firehouse life
Steve Chikerotis is the man tasked with making the cast of NBC's new drama Chicago Fire look and sound like firefighters.
But before the intensive boot camps got under way, he first chose to give them a glimpse of the true heroism of the brotherhood – and the tragedies that can come with it.
The 34-year veteran of the Chicago Fire Department, who serves as technical advisor to the show, brought them to Chicago's Wall of Honor on one of their first days together. The memorial lists the 569 names of fallen Chicago firefighters, some close friends of Chikerotis.
"I started the actors there and I told them 'that's who you represent, you represent these guys — they're my heroes, they're your heroes,'" he said.
Living up to standards
Chicago Fire has a lot to live up to and is likely to be watched with a highly critical eye from firefighters across the country. FX's Rescue Me gained a loyal following during its seven-season run; at the other end of the spectrum, paramedic show Trauma prompted letters of protest from groups such as the International Association of Fire Chiefs and the National Association of Emergency Medical Technicians.
Show producers, however, want to make sure that viewers don't see this as a Rescue Me 2.0, but rather a reinvention of the firefighting drama itself. But like other series in the past, the challenge of maintaining a realistic yet unoffending portrayal of first responders is a common and difficult one to grapple with.
Following the lives of firefighters and paramedics, both inside and out of the firehouse, Chicago Fire hopes to deliver a very "real" depiction of what it's like to put your life in danger every day, and still function like a regular human being.
"We work in a world where at two in the morning when everyone else is sleeping, you're in the most dangerous situation of your life and no one knows it except the brothers that are there alongside you," Chikerotis said, who is a deputy district chief. "In the morning, you're supposed to go home to your family like nothing's happened."
Away from his day job, Chikerotis is no stranger to television and film. He's helped shows and movies maintain their accuracy and authenticity for 20 years, including Ron Howard's Backdraft in 1991.
Making it authentic
Chikerotis has his hand in most parts of production, from working with the producers and writers to the actors, giving them intensive sessions on how firefighter gear works.
"My goal was to get them real comfortable in fire gear, in self-contained breathing apparatus and working with the tools so that they look natural — and they do," he said.
In the hope of ensuring a true glimpse of firehouse life, the show's writers Michael Brandt and Derek Haas (the team behind 3:10 to Yuma) even embedded themselves in a Chicago firehouse for several weeks.
"They just sort of soaked it all in under osmosis and came up with a panoply of characters, that seemed really authentic, really real and certainly space-specific to Chicago," Executive Producer Danielle Gelber said. The ensemble cast, she explains, is composites of the people and experiences.
"Their personalities, their reactions, and the pieces of their personal lives draw upon those of the people the writers met," Gelber said. "I think we feel incredibly confident that whatever storyline we're telling is deeply vetted within the fire department lore so that it feels real and isn't insulting on any level."
Chikerotis added, "With 34 years in the business, we don't really have to make things up, we're taking storylines of actual events, and putting our own twists and turns on them. They look real, because they are real."
The extras on the show are also actual Chicago firefighters, adding another layer of authenticity when those in the background actually look like they know what they're doing when responding to a call.
Not another Rescue Me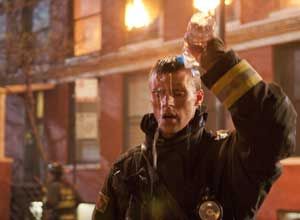 And while the show creators don't want Chicago Fire to be cast as a redux of Rescue Me , it's also an issue that they're not too worried about.
Gelber said Chicago Fire will shift away from the "dark underbelly" of the firefighting world that Rescue Me showcased, and instead shine a spotlight on the "optimistic, hopeful, positive," aspects.
"It's a time in this country for heroism and hope, for people to focus on something … that is rooted in the reality of human experience, and is real genuine drama," Gelber said.
And with Chikerotis admitting he wasn't a fan of Rescue Me, it should be safe to assume not too many parallels will be drawn between the two dramas.
While the series is shot completely onsite in Chicago, in part to differentiate itself from the NYC setting of Rescue Me, Chikerotis said it will speak to firefighters across the nation.
"We're firefighters, the city might look a little different, but we do things the same," he said.
With just a week before the premiere, both Gelber and Chikerotis are confident that Chicago Fire will be a hit, and are excited for firefighters to finally get to see it.
"We're excited for [firefighters] to want it. We want them to embrace it. It starts with them, if they don't embrace it, then we've done something wrong," Gelber said.
"I think audiences are going to fall in love with our cast. They'll be on the edge of their seats, crying, laughing, waiting for what's next," Chikerotis said. "We've got a winner."
Chicago Fire is led by a team of TV veterans, including executive director Dick Wolf of Law & Order fame, and is now shooting the sixth episode of its current 13-episode order.
It premieres Oct. 10 at 10 p.m. (Eastern) on NBC, the same week as the 141st anniversary of the Great Chicago Fire .