Denis Leary visits Ohio fire department
Leary took the time to have dinner, sign some autographs and hang out with the firefighters
---
TWINSBURG, Ohio — Actor Denis Leary took time out to visit a fire department while in town for filming of a new movie.
WKYC reported that Leary, starring in a new film called "Draft Day" about the Cleveland Browns, decided to head to the Twinsburg Fire Department for a chat while on a break.
Leary, who played the role of a firefighter in an FX series called "Rescue Me," took time to have dinner, sign some autographs and hang out with the firefighters, according to the report.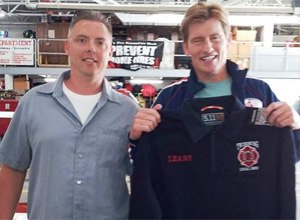 "He chatted with each individual on a personal level, was witty, humorous and very inquisitive about TFD operations, according to the Twinsburg Fire Department Facebook page.