FDNY honors boy for 911 call that saved mom's life
---
By FDNY
NEW YORK — Tahlique Garay is just 5-years-old, but he is already being hailed as a hero for saving a life — his mom's — by calling 9-1-1.
"He is a smart, resourceful young man," said Fire Commissioner Nicholas Scoppetta on Wednesday, when Tahlique and his mom visited FDNY Headquarters so he could be sworn in as a Junior Paramedic. "He did an amazing job and sets an excellent example for how every young person should act in an emergency, when seconds count."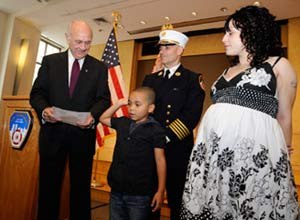 On August 5, his mother, Jennifer Garay, who is 8-months pregnant, collapsed at their Queens home while he was watching a movie. He immediately called 9-1-1 and told dispatchers that his mom had "passed out a little bit."
He remained calm, gave his address and unlocked the door to allow EMS members to easily enter and treat his mom. He also told dispatchers about Ms. Garay's seizure condition.
EMTs Rose-Marie Cameron and Emilio Navedo from Station 54 were the first to arrive. They gave the woman oxygen and checked her vital signs. Moments later, Paramedics William Gonzalez and Antaeus Waller arrived and administered an IV.
They transported her to Jamaica Hospital, where she was treated for severe dehydration. "It's amazing what [Tahlique] was able to do," said EMT Navedo. EMT Cameron added, "He was so calm the entire time."
Ms. Garay became emotional when she heard the 9-1-1 call for the first time.  "I am so, so proud of him. He's so smart, he wasn't scared at all," she said. "He not only saved me, but his [unborn] sister too."
She added that she began teaching him how to call for help when he was 2-years-old, after she had a seizure. She said she told him how to dial and what to say.
"It's so important to teach kids how to call 9-1-1, because anything could happen," she added. The FDNY Fire Safety Education Unit visits schools and camps throughout the five boroughs to teach children how to call for help if there is an emergency.
Tahlique said he will teach his new sister and his friends about how he saved his mom's life. "Make sure to call 9-1-1 if you have an emergency or you are hurt," he said.