Fla. church gives thanks to first responders
The Palm Coast United Methodist Church saluted first responders by dedicating a service to say thank you
---
Frank Fernandez
The News-Journal, Daytona Beach, Fla.
DAYTONA BEACH, Fla. — Palm Coast United Methodist Church recently saluted first responders by dedicating a service to say thank you to the law enforcement and rescue workers.
Flagler County Sheriff Rick Staly, Palm Coast Mayor Milissa Holland, Bunnell Police Chief Tom Foster, along with firefighters and paramedics from Palm Coast and Flagler County, attended the Sunday, May 19, service. A Palm Coast fire truck and a Flagler County rescue truck were parked near the entrance to the church at 5200 Belle Terre Parkway. After the service, church members served up a free lunch to first responders.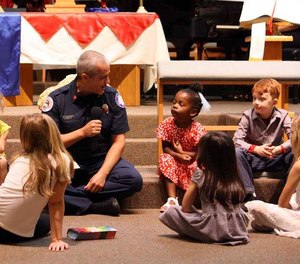 A vase with flowers and American flags adorned a table along with a firefighter's helmet, a sheriff's cap and a paramedic's blue pouch in the sanctuary.
Staly spoke to the congregation about the challenges of being a first-responder.
"I've served in law enforcement for over 40 years," Staly said. "I can tell you from first-hand experience this is not an average 9 to 5 job. From the moment a first responder puts on their uniform they know at any moment they may answer a call that puts their life directly in harm's way. They know that answering a call to save a life could mean forfeiting their own."
Another speaker was Reginald Bynum, who retired from the East Orange New Jersey Fire Department. He asked God to back up first responders.
"We ask this morning that you watch over all the men and the women who are protecting us," Bynum said. "We pray for the first responders. We pray for our Sheriff's Department, the police officers. We pray for the firefighters and paramedics that they may have a safe shift and come home to their families."
Church Pastor Kevin James Sr. made emergency workers and helping others the theme of his sermon.
"We all need it," he said about help. "We all need it. Not only do we need it, we also need to give it."
"Look around this sanctuary at these first responders, they are willing to give help," James said.
He said that some people don't appreciate first responders.
"The same people that they go out to help, reject them, talk bad about them, use language that's not in the Bible, doesn't matter what translation you have," James said, drawing laughs from the congregation.
Mayor Milissa Holland also spoke, and after the sermon expressed her gratitude to first responders.
"We are really grateful for everything they do, the safety they provide our residents," she said. "They are instrumental. We take public safety very seriously. We can never say thank you enough. They are putting their lives on the line every single day."
———
©2019 The News-Journal, Daytona Beach, Fla.
McClatchy-Tribune News Service