Mass. city FD worried about medical response times after hospital closes
Ambulance turnaround and arrival time, which has already been impacted, is likely to become more an issue when Union Hospital and its emergency room closes next spring
---
Gayla Cawley
Daily Item, Lynn, Mass.
LYNN — The impending closure of Union Hospital is already having a negative impact on the availability of ambulance service for medical call response in the city, according to the Lynn Fire Department.
Lynn Fire Capt. Joseph Zukas said with an increasing amount of the city's ambulance transports being diverted to Salem Hospital, the emergency room there is already overcrowded and he doesn't believe the new ER being built on the Salem campus will have the capacity for patients it will see when Union Hospital closes.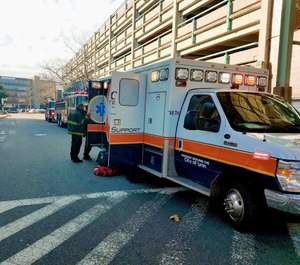 Union Hospital is scheduled to close in May 2020, which will coincide with the opening of a new medical village on the site. The new facility will have urgent care services, but the city will no longer have an emergency room after the hospital's closure.
The Department of Public Health approved a $180 million expansion of North Shore Medical Center (NSMC) in 2016 that will close Union and move the beds to a new Salem campus. The medical facilities in Lynn and Salem are part of Partners Healthcare.
"I don't think people are fully prepared for it," said Zukas, the city's emergency medical services (EMS) director. "The new emergency room at Salem Hospital cannot handle what both facilities handle right now. I definitely think it's going to impact the citizens in a negative way."
Zukas said the majority of ambulance transports are diverted to Salem Hospital because paramedics or EMTs feel there are better services for the patient. Union's operating rooms closed last spring and there isn't a maternity ward. Additional services will move over to Salem when its expansion is completed in October.
Last year, 63 percent of ambulance transports went to Salem Hospital. Only 30 percent went to Union with the remainder going to other hospitals in the area. The number of calls diverted are even higher this year, as last month, 79 percent of transports went to Salem Hospital. In 2013, when Lynn had more medical capabilities, the majority, or 53 percent of transports went to Union Hospital and 39 percent went to Salem, according to Zukas.
With the majority of calls getting diverted to Salem, Zukas said that means the city's ambulances take a longer time to get back in service after taking a patient to the hospital. There's often traffic and a trip to Salem means a longer commute to the hospital and a longer trip to get back to Lynn, meaning those ambulances are not able to respond to medical emergencies as quickly, he said.
The city has five ambulances in service: Lynn Fire Medic 1, which provides ambulance service and fights fires, and four contracted through Atlantic Ambulance. Zukas said Atlantic provides additional equipment if needed, but if that ambulance is coming from another city, such as downtown Peabody, it's not in service quickly either.
In Lynn, 65 to 70 percent of 911 calls are medical-related. Lynn Fire is first on the scene, as the nearest fire station responds, with a goal of arriving in four minutes. An ambulance looks to arrive in seven minutes. All firefighters have to be trained as first responders, or EMTs, and some are also paramedics, a higher level of training. Their role is to assess and stabilize the patient until an ambulance arrives.
But ambulance turnaround and arrival time, which has already been impacted, is likely to become more an issue when Union and its emergency room closes next spring, Zukas said.
"I feel confident we can treat the citizens of Lynn in an adequate manner but the wait time for an ambulance will be a little longer," he said. "I'm not saying anyone is going to die out there, but it will just be a little longer."
What's also troubling, Zukas said, is the number of ambulance transports via 911 calls have been increasing. In 2013, the city had 9,249 transports and in 2018, there were 10,625.
Lynn Fire Chief Stephen Archer expects last year's ambulance revenue to be around $500,000, which goes into the city's general fund. That figure is expected to increase to approximately $600,000 next year as each transport brings in an average of $600, but more transports and distance means more wear and tear on vehicles, according to Zukas.
By law, ambulances can only take patients to hospitals, rather than urgent care or Lynn Community Health Center. Even if a patient is stable and healthy, an ambulance still has to transport them if they choose to go to the hospital, Zukas said.
Wait times have already increased at Salem's emergency room and Zukas believes they will only get worse as the hospital's new ER will have to handle an influx of patients from both Union and Salem. Not only do Lynn residents utilize Union, but so do those from neighboring communities such as Lynnfield and Saugus.
Zukas said he questioned whether the new ER would have the capacity to handle the expected patients, and was told by Partners their solution was to have an educational component to keep people away from emergency rooms, or from calling 911, if they could instead get services from urgent care and primary care doctors.
But Laura Fleming, NSMC spokeswoman, said the planned "robust, multi-lingual" education program is only part of the strategy for reducing capacity in the new emergency room at Salem, scheduled to open in October.
"I don't think there's a concern about not having enough beds," Fleming said. "It was planned to accommodate the demand we expect and that's still true."
The new emergency department in Salem will have 65 beds, up from the 51 beds at the hospital's current emergency room. A 10-bed observation unit will be reserved for patients with behavioral health needs, which is aimed at reducing wait times. Twelve emergency beds will remain in the pediatric emergency department on the Salem campus, which can also be activated during peak times, such as flu season, according to Fleming.
Part of the strategy is the eight-bed urgent care facility at the future medical village in Lynn, which will be aimed at managing less acute healthcare needs that is now seen at Union's emergency room. In addition, urgent care services are available at Lynn Community Health Center, Fleming said.
The expansion includes 54 new psychiatry beds, which is aimed at reducing emergency room overcrowding, as many of those patients wait hours or days in the ER before those beds become available. In addition, there will be 24 new private patient rooms reserved for medical and cardiology patients, according to Fleming.
"With all of these elements in place, we are confident that we will have adequate resources to meet the emergency needs of the NSMC community in the future," Fleming said.
———
©2019 Daily Item, Lynn, Mass.
McClatchy-Tribune News Service