Privatization push: Can fire departments survive?
There's a big move to privatize not just EMS service delivery but fire departments as well
---
Editor's note: "There's an idea that being excellent at firefighting and excellent at EMS, as an individual or a department, are incompatible," says our Editorial Advisor Chief Adam K. Thiel. "I know that's not true, but I also know from experience that it's not easy and takes a lot of time and effort." Read more of his thoughts on the article below in "
Fire-based EMS: The issues we face
."
By Jamie Thompson
FireRescue1 Senior Editor
The referee has already blown the whistle — but did you even know the game had begun?
The fire service of today may look drastically different within the next 10 years unless mindsets are changed, a session at Fire-Rescue Med in Las Vegas was told Friday.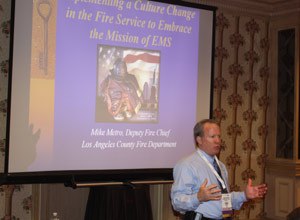 And one of the first things that needs to be done is implementing a culture change to embrace the EMS mission at some departments, according to Mike Metro, Deputy Fire Chief at Los Angeles County Fire Department.
"Municipalities are considering doing things they never would have done previously; there's city after city looking at privatizing operations." Chief Metro told the session.
"There's a big move to privatize not just EMS service delivery that the fire service has traditionally owned, they are looking to privatize fire departments, too."
Chief Metro said the whistle has already blown and the game is under way.
"Not only did we not show up, we didn't know the competition had started," he said. "Trust me, that's the case."
During the presentation, Chief Metro outlined how the fire service is being seriously challenged on its right to provide EMS service in its own jurisdictions.
"Municipalities are dying," he said, "City officials are being forced to look at debilitating cuts. City officials are being forced look out of the box for solutions."
What began as a trickle from external organizations looking to take over EMS delivery could be turning into a flood. And this could well be only the beginning, Chief Metro said.
Toward the end of last month, the San Carlos, Calif., City Council voted to pursue a hybrid fire department with Redwood City as its preferred option for delivering a fire service after the Belmont-San Carlos Fire Department officially breaks up in October.
However, in a separate 3 to 2 vote, council members also decided to resume talks with Wackenhut Services Inc., a private Fla.-based company, if negotiations with Redwood City fail, The San Jose Mercury News reported.
Wackenhut's proposal to provide a fire service was projected to save San Carlos between $1.9 million and $6.6 million annually, as outlined in the following video:
.
"When they come knocking on your door and say, 'We can do it better than you,' don't wait until that knock for you to be able to prove what kind of job you can do," Chief Metro told the session. "That's where we're failing, left, right and center.
"The bottom line is we must compete. This is something new for the fire service — we have never had to compete before."
When it comes to the delivery of emergency medical services, many fire departments are still failing to embrace the EMS mission, the session was told.
Chief Metro highlighted how "outdated cultures die hard," referencing an old report in USA Today called "Six Minutes to Live or Die" that focused on EMS in the nation's biggest cities.
While more than 10 years old, it still holds some relevancy a decade on, he said. "Many firefighters said they were unhappy because they had signed on to fight fires, not tend to sick people," according to the report, which went on to claim the time it took to get out of the fire station on a cardiac arrest call was 42 seconds longer than it took for a fire call.
"As long as no one is trapped in the building, what happens to that building? It becomes either a parking lot or is rebuilt," Chief Metro said. "But if you kill someone, that's bad.
"Outdated cultures die hard. There's a lot more we have to do in order to embrace what has been given to us."
The fire service must continue to improve if it's going to maintain "our organizational greatness," Chief Metro said.
When it comes to the EMS mission, departments should ask themselves if they:
Do not tolerate it
Only tolerate it
Fully accept it
Embrace it
An area that departments need to begin focusing on to achieve the latter is recruiting — specifically, hiring those who love doing what today's firefighter really does, the session was told.
Chief Metro said Hollywood, the media and even the fire service itself have painted a picture of how the fire service actually is — and that image may be wrong.
It's vital to develop recruiting programs that reflect what people in the fire service really do nowadays.
Ways to achieve this, the session was told, include:
Changing the narratives of job flyers to reflect the day-to-day duties of today's firefighter
Posting the proper ratio of EMS pictures to fire pictures at community events
Giving specific directions to those handling community relations and recruitment to highlight the EMS mission
Examining the testing processes
This is all part of an overall change in mindset that the fire service needs to initiate, the session was told.
"Within 10 years, if we are not paying attention, then I'm afraid America's fire service is going to look much different," Chief Metro said.
"I'm afraid that in five to 10 years, you will be looking back and saying, 'I wish I had done something differently.' It's that critical right now."