Tenn. county first responder program launches after eight-year wait
Cumberland County's first-responder team includes 32 trained emergency medical responders from the Cumberland County and Fairfield Glade Volunteer Fire Departments
---
Gary Nelson
Crossville Chronicle, Tenn.
CROSSVILLE, Tenn. — Cumberland County will have its countywide first responder program in place beginning next week.
EMS Director Chris Miller, Cumberland County Fire Chief Trevor Kerley and Cumberland County Mayor Allen Foster recently announced the program will start June 3.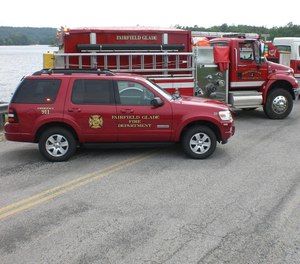 First responders are dispatched when an ambulance is called to provide care and sometimes life-saving interventions before EMS arrives on the scene. A few of the services include rescue breathing, defibrillation and bleeding control.
After an ambulance arrives, first responders can continue to assist in patient care and also play an important role in scene management.
"I'm glad to get this program started and to see what benefits it will bring to the county. It's going to help a lot," Kerley said.
Cumberland County's first-responder team includes 32 trained emergency medical responders from the Cumberland County and Fairfield Glade Volunteer Fire Departments.
"This group consists of EMRs, EMTs and paramedics," Kerley said.
He said there will be some first responders in each district.
"They're scattered throughout the county with some in each district. But they can respond to a call in any district. It's set up like our volunteer fire department," Kerley said.
The program won't necessarily improve ambulance response times to farther locations in the county such as Fairfield Glade.
"These volunteers many times will get there before an ambulance. They can assess the situation and give aid before an ambulance arrives," Kerley said.
The program has been considered by the county since 2011 when retired Cumberland County Fire Chief Jeff Dodson brought the concept to the emergency services and budget committees.
A $27,000 start-up budget for the program was approved in fiscal year 2013-'14, but the program has stalled since.
"It was not as easy to get this started as we thought it would be in the beginning. We had to get a lot of approvals through the state," Kerley said.
Foster said he has been a supporter of the program since the beginning.
"I have been working with EMS Director Chris Miller and Fire Chief Trevor Kerley to get this program restarted since almost day one in office. The process takes some time but it will be worth it. We are blessed to have dedicated emergency responders here in Cumberland County," Foster said.
Gary Nelson may be reached at gnelson@crossville-chronicle.com