Volunteer EMT, firefighter tie the knot at firehouse
After convincing city officials to allow the ceremony, Evansdale Community Response Center was the perfect location for the union
---
By News Staff
EVANSDALE, Iowa — A firefighter and an EMT tied the knot at the Evansdale Community Response Center, a perfect place to get married as an ode to the couple's passion for helping others in emergency situations.
Trey Manthey-Lamon is a volunteer firefighter and Morgan Nie is a volunteer EMT. Getting married at the firehouse was a no brainer for the two, according to The Courier.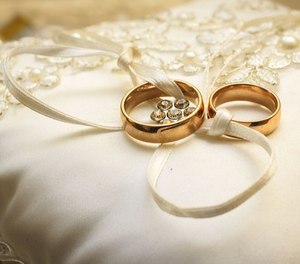 However, the initial request to be married at the firehouse was denied by city council members. Fire Chief Ryan Phillips spoke on behalf of the couple, reminding city officials that the pair voluntarily serve the community.
Phillips even officiated the ceremony, becoming an ordained minister online.
"I asked around and nobody could remember anybody doing anything like this before," Phillips said. "They wanted to do a firefighter-themed wedding, and somebody made a joke that I should do the ceremony."
It worked out exactly as the couple wanted.
"It was kind of both of our ideas," Nie said. "We didn't want the big traditional church wedding."
After the ceremony ended, the fire department received a cardiac arrest call prompting several firefighters and EMTs to answer to the incident. Thankfully they were already dressed for the part.