FEMA grant to help pay volunteer FFs that fought Mont. fire
Each of the departments that responded to a mutual aid request put in early in the battle against the blaze will be receiving reimbursement
---
By Thomas Plank
Independent Record, Helena, Mont.
HELENA, Mont. — A block of federal money earmarked for the North Hills fire will help pay volunteer firefighters for their work.
Tri-Lakes Volunteer Fire Department Chief Bob Drake said Tuesday that the Montana Department of Natural Resources and Conservation applied for a Federal Emergency Management Agency grant when the fire's complex nature began to show itself. That money will be used to pay the out-of-district volunteer fire departments for their work on the fire.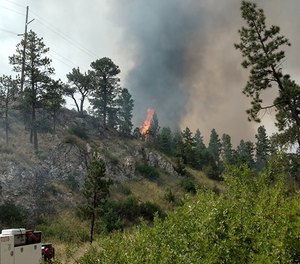 "All the outside firefighters will be paid as basic emergency firefighters after the first day (on the job)," Drake said.
Tri-Lakes and Lewis and Clark County Volunteer Fire Department personnel won't receive any of the federal money because regulations do not allow for payment of in-district emergency responders. But each of the departments that responded to a mutual aid request put in early in the battle against the blaze will be receiving reimbursement.
John Grassy, the DNRC's public information officer, said the state would be paying the volunteer firefighters for their work on the fire and would be reimbursed for those funds.
"The volunteer firefighters were immediately hired by us," Grassy said.
The firefighters were then paid for their work as emergency firefighters and the state will be using the grant to recover some of that cost. Grassy said the FEMA funds would only reimburse a six-and-a-half day period when the fire was declared an emergency, from 12 p.m. on July 26 to 12 a.m. on Aug. 1.
The 5,000-acre North Hills fire near Helena was caused by someone shooting exploding targets on BLM land. The resulting fire triggered evacuations for nearly 500 homes in the area as firefighters fought it for nearly a week on the ground and in the air.
Drake said the FEMA cash will also be used to pay for the outside departments' equipment use as well.
"They'll have money to fix the trucks they have," Drake said.
Lewis and Clark County will also receive a portion of the FEMA funds, Grassy said. Labor, equipment and materials are eligible for the money, so sheriff's deputies manning roadblocks could be paid for their work with federal funds.
Drake said while the money will be a "pimple" on the entire cost of the North Hills fire, the money will make a difference to the departments.
Drake also wanted to make it clear that the firefighters were responding without knowing they would get paid for their work.
"We didn't expect to be paid and didn't do paperwork until Monday or Tuesday (after the fire began)," Drake said.
Drake said he was grateful to the DNRC for working to procure those federal funds for the volunteer firefighters.
"It's huge that they're our partner," Drake said.
———
©2019 the Independent Record (Helena, Mont.)
McClatchy-Tribune News Service