FDNY Purchases New High-rise Firefighting Technology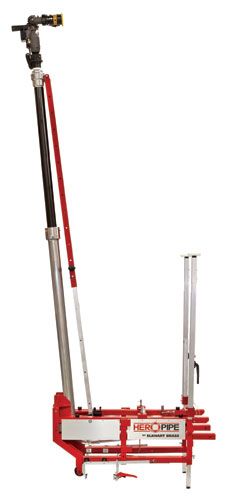 Elkhart, IN – Elkhart Brass announced today it has received an order from the Fire Department of New York (FDNY) for their award winning high-rise firefighting technology, the HEROPipe™ system. The order will be delivered to FDNY by late October 2011.
Developed by a front line Chicago Fire Lieutenant, Michael Wielgat, and introduced at the Fire Department Instructor's Conference (FDIC) this past spring by Elkhart Brass, The HEROPipe™ System is a light-weight water delivery system that allows firefighters to deliver master stream GPM to any floor of a high-rise structure from the vantage point of the floor below.
"This product is a real game-changer for high-rise fires," says Don Sjolin, Elkhart Brass Chief Operating Officer. "The HEROPipe™ System really is the first viable solution for fires that cannot be reached either from a ladder truck or an adjacent building. Enabling firefighters to neutralize incidents from the floor below poses far less risk to the team than a direct attack. We believe the HEROPipe™ system will be a valuable addition to FDNY and the arsenal of other urban fire departments." This purchase positions FDNY as the first city worldwide to overcome a gap in high-rise firefighting tactics.
"Having evaluated the capabilities and operational considerations of this new technology, The HEROPipe™ System will provide our department with a new tactical advantage to mitigate large scale high-rise incidents on floors that are out of the reach of current exterior attack methods. Taking into consideration all conventional or intentional threats, I believe The HEROPipe™ System will provide our first responders with a vital and effective tool toward their effort to protect the lives and property of New York City" says Deputy Assistant Chief Jack Mooney, Chief of the Fire Academy, FDNY.
FDNY, one of the World's largest fire departments, is recognized for the tremendous amount of research and testing they conduct when making a decision to purchase any product. FDNY's core value is to maintain a constant state of readiness to meet all threats and challenges, traditional and new. The detailed research and testing by FDNY leading up to this purchase decision demonstrates the product's unrivaled performance capabilities.
The HEROPipe™ system can be set up for action in as little as three minutes with a two-person team. Once the proper attack points have been determined, the aluminum manifold is secured to the exterior of the floor below the incident. The telescopic waterway is made of anodized aluminum and is capable of delivering large volumes of water. Combined with Elkhart's Sidewinder™ EXM monitor, a targeted stream can be directed by remote control. Built in features of the HEROPipe™ system and simplicity of design promote firefighter safety.
The city of New York is the largest city in the United States. FDNY protects the lives and property for 305 square miles with a population of over 8 million.
About Elkhart Brass
Elkhart Brass Mfg. Co., Inc. is a leading manufacturer of innovative firefighting equipment. They have been owned and operated by the same family since they were founded in 1902. Elkhart Brass manufactures firefighting nozzles, water cannons, valves, fireground appliances, foam eductors, and apparatus fittings, as well as accessories for many of these components.