PRESS RELEASE
Oelo lights up Falls Township Fire Department
---
Oelo installs outdoor LED structural lighting on the Falls Township Fire Department, lighting up the station 365 days a year
FORT COLLINS, Colo. — Oelo lighting solutions, a manufacturer of LED outdoor lighting products, announced the installation of their LED structural lighting on the Falls Township Fire Department, located in Levitown, PA. Oelo installed its fully customizable outdoor structural lighting product to highlight the station for various occasions throughout the year.
Oelo lighting systems are powered by individual LED engines to deliver safe, energy-efficient and configurable lighting solutions, designed to withstand the elements year-round.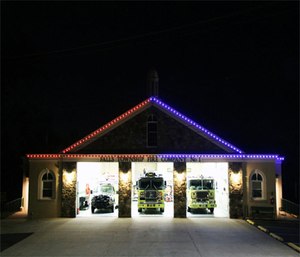 "We want the Falls Township fire station to shine bright all year, for every occasion, and cause," said Clay Horst, COO of Oelo. "Municipal buildings are designed to make a statement, to standout; Oelo lighting really showcases the beauty of the Township Fire Department."
The Falls Township Fire Department has been serving the community since 1928, expanding their structure and services as the community grows.
"Our building is not new; Oelo mounted seamlessly to the exterior trim without causing damage, and remains undetectable during the daylight hours," said Gary Margerum, fire company president, Falls Township Fire Department. "Having the ability to change lighting colors and configurations with my phone makes management extremely easy and actually pretty fun."
To show support for the 2016 United States Olympians, the Falls Township Fire Department displays red and blue on their Oelo lighting system.
"We cannot be in Rio to support our team, but having the ability to light the fire station to demonstrate our support has evoked a sense of connection and patriotism for the entire town of Levitown," said Margerum.
For more information about Oelo lighting solutions, visit www.oelo.com.
About Oelo
As a Colorado company with a love of the outdoors, Oelo is passionate about outdoor lighting solutions. Whether you want to illuminate your home, brighten your business, or use lighting to enjoy an outdoor living space all year long, Oelo provides top-quality products to make it happen. With excellent customer service from design to purchase and installation, Oelo will help bring your unique vision and style to light.