RAM Mounting Systems Announces Powered Docking Station For the Panasonic Toughbook H1 Health and H1 Field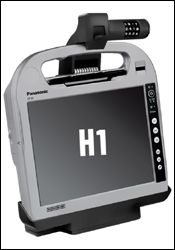 No other dock for the Panasonic H1 Health and H1 field is easier to use than this outstanding solution. With one hand, you can easily insert or remove the Tablet. The unique spring loaded latch and roller system perform flawlessly together and the overall shape of the dock does not block any functions of the mounted device. The built in keyless lock adds security so your H1 is there when you need it. Additional features include 5 USB connections, Ethernet, serial, VGA, and power input. RAM offers mounting systems to meet a wide range of medical applications as well as field applications. This one of a kind docking solution for the Panasonic H1 mounts to any flat surface alone or can be paired with a variety of RAM rubber ball and socket systems for unmatched ergonomics and viewing angles. No matter whether the H1 will be used in the ER, a Doctors office, ambulance, or field vehicle, RAM has what you need to mount the Panasonic H1 exactly where you want it. Keep it safe, secure, and ready with RAM.
About RAM Mounts
RAM stands for Round-A-Mount and got its start in 1995. Most of the product line is based on a patented design revolving around a rubber ball and socket system. Far and away the most innovative product line of its kind, RAM continues to evolve into one of the most sought after accessories for electronics. RAM products have quickly become an essential mounting component for a wide variety of applications including rugged vehicle, industrial, military and defense, material handling as well as any application requiring a robust mounting solution. Incorporating a non-slip feature as well as shock and vibration dampening, our often imitated but never duplicated mounting solutions are truly one of a kind and enhance every application they are used in. Unwilling to compromise durability and versatility, many RAM products are available to support devices from less than a pound up to 185 pounds. Utilizing the finest assembly hardware, durable composites, steel, stainless steel, rubber, and aluminum, our mounting bases and complete kits are manufactured to perform above expectations and remain cost effective.
For more information visit www.ram-mount.com