RAM Mounting Systems Introduces the RAM Tough-Hub
RAM Releases One of the Most Versatile and Innovative Rugged USB Hubs in the Industry.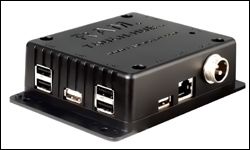 Seattle, WA – RAM Mounting Systems, an industry leader in mobile mounting solutions, release a truly unique rugged USB Hub solution. Through customer feedback and market research, RAM has developed a rugged USB Hub solution that truly addresses the needs of the end user. In addition to offering 6qty 5V USB 2.0 ports, the RAM Tough-Hub™ offers the unique ability to wire the hub to an ignition trigger. This gives the user the ability to achieve a timed delay shut off to the connected peripherals, which is tied to the ignition of the vehicle. The timed delay keeps the connected peripherals powered and active during short vehicle stops, eliminating errors and connectivity issues and ultimately saving time and money. In addition, the Hub offers an Ethernet connection which is perfect for adding in vehicle video. The RAM Tough-Hub™ is perfect for applications such as: manufacturing plants, shipping and loading docks, waste management facilities and vehicles, construction industry, agricultural, public safety, commercial fleet and more. The RAM Tough-Hub™ easily integrates into a wide variety of RAM mounting solutions, enabling the user to mount the hub virtually anywhere. Low cost, rugged, and feature packed, the RAM Tough-Hub™ is a must have for any rugged application requiring a powered USB Hub.
RAM Tough-Hub™ Features:
• 6 qty 5v Powered USB 2.0 Ports
• 1 qty 10/100 MBPS Ethernet Port
• Threaded power input for 12-48 VDC input
• Strain Relief connection points
• Ignition Trigger: The ignition trigger can be wired to the ignition of the vehicle (or other 12V ignition source) to provide a timed power shut off to the connected peripherals after the vehicle has been turned off. When the vehicle ignition is switched to off, the RAM Tough-Hub™ continues to provide power to the connected peripherals for a pre set duration of time. This unique RAM feature keeps your connected devices powered for quick vehicle stops, avoiding any possible connectivity issues. The timed shut off can be preset for: 5, 15 and 45 minutes.
• 5 year warranty
For more information on this product, as well as other RAM products, please visit www.ram-mount.com