How to choose the right firefighting boot for the job
Firefighters are tactical athletes, so they need footwear options that support them well
---
By Robert Avsec for FireRescueOne BrandFocus
An old saying from country folks goes something like this, "If your dogs are barking, nothing feels good." (The dogs, in this case, refer to one's feet). And any firefighter who's spent a couple of hours walking and working in rubber turnout boots that don't fit well can attest to that.
Rubber fire boots first appeared in the 1930s. Prior to that, firefighting boots were made from leather. The reappearance of leather structural firefighting boots in the early 2000s has taken fit, reduced weight, and comfort to a new level for firefighters. Thorogood was one of the first manufacturers to bring the new generation of leather structural firefighting boots to market and one of its most popular boots has been the 14-inch Power HV Structural Bunker Boot.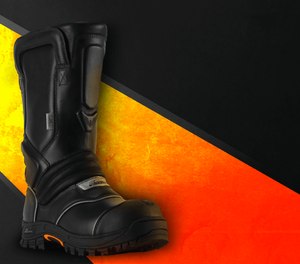 So, what do you do if you've already developed a leather structural firefighting boot that firefighters like? If you're Thorogood, you take a good boot and make it better.
And that's exactly what Thorogood has done with its "upgraded" the Power HV boot: the QR14 14-inch Structural Bunker Boot that offers an attractive price-to-value ratio. They've taken those features of the Power HV boot that firefighters liked – comfortable, durability, cushioning, stability, and style – and made sure the QR14 boot had them as well.
And they listened to firefighters and addressed what firefighters didn't like in the Power HV –break-in time, fit around the ankle, and a more durable waterproof lining – to create a boot that any firefighter will love. And what's not to love about features like:
Flex gussets that allow the boot to move with you.
An aggressive, slip-resisting outsole with 90-degree heel and ladder grips that provide traction on any surface.
A GORE CROSSTECH triple-layer moisture barrier, the toughest in the industry, that delivers rugged, long-lasting protection that also provides protection from bloodborne pathogens that may be in blood or other body fluids.
A composite safety toe, LENZI L-Protection insole, and steel triple-rib ladder shank to protect your foot from impact, puncture, and the strain of working on ladders.
Extra padding in the shin and ankle protects you from ladder rungs and other impacts.
A structural firefighting boot that's compliant with NFPA 1971: Standard on Protective Ensembles for Structural Fire Fighting and Proximity Fire Fighting and ASTM F2413: Standard Specification for Performance Requirements for Protective (Safety) Toe Cap Footwear.
Women's Structural Firefighting Boot
If you're a woman and a firefighter then you know about the challenges in finding structural firefighting ensemble components (e.g., coat, pants, gloves, boots) that truly fit. Well, when it comes to the boots, look no further than Thorogood's Knockdown Elite – Women's 14-inch Structural Bunker Boot.
The Knockdown Elite has a flame and cut-resisting leather upper that provides exceptional traction on any surface, including pitched roofs and steep embankments.
And they go on with ease. Once your foot slides in, the ankle-lock system holds your foot firmly in place until you use the boot's handy heel kick-plate to take them off.
For protection, women need the same features found in the QR14 men's boot: a composite safety toe, LENZI L-Protection insole and steel triple-rib ladder shank. Thorogood has also added extra protection for your heel with PORON XRD padding – the same impact protection used in motocross racing.
In addition to being waterproof, the STEDAIR PTFE waterproof barrier also repels dangerous fluids, including bodily fluids that may contain bloodborne pathogens. And because you might be on your feet for hours, the Knockdown Elite comes with dual-density removable insoles that mold to the shape of your foot to keep you comfortable until you're back at the station.
The Knockdown Elite is compliant with the requirements of both NFPA 1971 and NFPA 1992: Standard on Liquid Splash-Protective Ensembles and Clothing for Hazardous Materials Emergencies, as well as ASTM F2413.
Station Boots
Perhaps we should all start calling them "duty boots" because your options for the footwear that's not part of your structural firefighting ensemble have never been greater. When looking through your options keep in mind the two NFPA standards that are applicable to "duty boots" worn by firefighters: NFPA 1977: Standard on Protective Clothing and Equipment for Wildland Fire Fighting; and NFPA 1999: Standard on Protective Clothing and Ensembles for Emergency Medical Operations.
When deciding what boot fits your purposes best, start by looking at your options for boot height and match them to the purpose.
6-inch to 7-inch: Good for fire station environment and general work conditions outside the fire station, including EMS calls.
8-inch to 9-inch: Good for the above as well as more challenging situations such as working on grades or ground cover fires in the wildland-urban interface (WUI).
10-inch to 11-inch: Good for challenging tactical work, such as tactical medics or flight medics, and more aggressive wildland firefighting in uneven terrain.
Today's footwear also comes with a variety of the lacing and zipper options such as mid-foot lace or lace-to-toe, or a side zipper or a laced-in middle zipper for ease in donning.
Put it all together and you have several boot choices available for both men and women and that give you the support, comfort and protection you need for any firefighting task. For station/EMS, tactical and wildland boots, good choices are:
As a firefighter, you expect good fit, support, comfort, and durability in the footwear whether it's around the station or on the emergency scene. Thorogood's variety of footwear for firefighters is designed to meet your high expectations.