Black Diamond Footwear Debuts New X2 Boot at FDIC
WOBURN, MA - Black Diamond Footwear is pleased to announce the debut of its X2 Boot at the FDIC Convention and Expo in Indianapolis, Indiana taking place from April 19-24.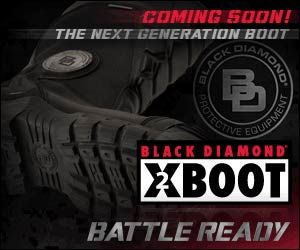 The X2 represents the next generation of comfort and technology in the evolution of Black Diamond Footwear, combining the latest advancements in footwear and fire industry innovations. Some unique features include:
Calf-Fit System: accommodates larger calfs and provides maximum comfort and fit
CROSSTECH® membrane: CROSSTECH® membrane with Omaha lining is a high performance, wicking fabric originally developed for aggressive military applications
Lining Construction: stitch-down 'Stroble' lining construction ensures no liner pullout
Ortholite® Footbed: Tri-density, multi-fit, removable footbed with TPU heel cradle for comfort, anti-odor, anti-fungal, breathable, and shock absorption
3-Point Heel Lock and Ankle Guard System: exclusive 3-point heel lock system for better fit and protection
Fusion Upper: a powerful alloy of solution dye Nomex / Kevlar and Teflon F.P.P.E. Combines the durability of Nomex, the strength and abrasion resistance of Kevlar and water resistance of patented Teflon F.P.P.E.
Built-In Boot Jack: provides firefighters easy on, easy off
"This is an exciting time for us at Black Diamond," said Black Diamond President, Rob Mills. "We take pride in being a specialized footwear company that makes exceptional fire boots. This is our niche and it is wonderful to see others appreciate our approach."
The FDIC Conference and Expo is the largest and possibly the most comprehensive firefighter event in the US. FDIC will be hosting more than 24 hands-on training evolutions, 34 preconference workshops, and more than 160 classroom presentations. Black Diamond Footwear will be debuting the X2 boot to the public for the first time at booth #410.
Black Diamond is the leader in performance protective footwear and its boots are tested in the harshest conditions on a daily basis at fire departments around the world in countries such as Brazil, Mexico, Colombia, Kuwait, Saudi Arabia, Dubai, Thailand, China, Taiwan, Canada and the United States of America. Utilizing proprietary footwear constructions and "best in class" components and materials such as CROSSTECH® and Ortholite®, Black Diamond builds a better boot for workers who demand all-day comfort, support and protection.
About Black Diamond Group, Inc.
Black Diamond is a leading brand of performance protective footwear. The company's highly acclaimed fire boots are used by fire departments around the world and are developed with the finest, most durable materials and components to endure the extraordinary demands placed on firefighters. Black Diamond is the only brand in the industry to combine the latest technologies for superior comfort and performance in harsh conditions. They are the only boots to be certified by the National Fire Protection Association (NFPA) and receive the American Podiatric Medical Association (APMA) Seal of Approval.
For further information, please visit www.blackdiamondfootwear.com.