PRESS RELEASE
HAIX Announces the Release of the All New Fire Hiker
---
use if there is a picture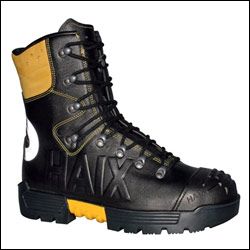 end picture
Lexington, KY - HAIX®, a leading manufacturer of innovative and high quality fire fighting, rescue, and law enforcement footwear, announces the release of the new Fire Hiker for wildland firefighting. The Fire Hiker was developed in cooperation with U.S Wildland Specialists and features an all new design to fulfill all needs of wildland firefighters. The Fire Hiker is certified to both NFPA 1977-2005 for wildland firefighting as well as to ASTM F2413-05 for footwear protection.
The 9" Fire Hiker is constructed with HAIX's new Sun Reflect leather that reduces the heating effect of the leather by direct sunlight while at the same time providing leather that is water resistant and breathable. The Fire Hiker features a newly developed sole that is high-heat resistant, has non heat transferring puncture resistance, a specially designed heel for superior footholds on steep and uneven terrain, and lip edge in the rear heel area for easy removal of boots. The composite toe cap does not transfer heat or get hot as well. This new innovative design provides all day wearing comfort. An ideal boot for dual cert wildland station/duty pants.
About HAIX®
HAIX® is a producer of functional and innovative footwear. Our high-tech products fulfill the highest requirements regarding function, quality and design. HAIX® is committed to providing the market with the best footwear for the fire services, rescue and law enforcement industries.  HAIX® is quality from Germany.