The fire service is a family affair
These iconic firefighter boots pay homage to the firefighting tradition and support public safety heroes
---

By Robert Avsec for FireRescue1 BrandFocus
For many families, firefighting is more than an occupation. It's a legacy with a responsibility and duty to be passed from generation to generation. Check out any social media platform (e.g., Facebook, Instagram, Twitter) and you'll see just how much this is true.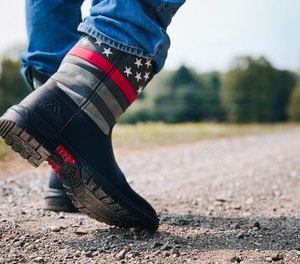 You'll see fathers and mothers, who are firefighters, welcoming their offspring to the noble profession. Even more impressive is seeing firefighter grandparents giving online "shout outs" to their grandchildren as the youngsters join the profession or a volunteer fire department.
During my 30-plus years of service as a firefighter/paramedic, I wore a variety of station (work) boots. It wasn't until I obtained my first pair of "Rocky Boots" that my "dawgs" (feet) were happy campers while on duty. My first pair of 8-inch, steel-toed station boots withheld years of continuous duty, all the way to my retirement in 2007.
Today, Rocky continues to offer an impressive line of station boots for both men and women in the fire service that includes:
Alpha Force. A waterproof full-grain leather/nylon boot with a medial side zipper for easy donning and doffing. Alpha Force uses light and flexible cement construction, has an oil and slip resistant RigiTrac molded EVA (ethyl vinyl acetate) and rubber outsole. Additional features include:
Thermoplastic Polyurethane (TPU) hotmelt covered seams 
A one-year breathable vapor barrier
Fiberglass shank (for lightweight but solid support and protection)
Rocky Air-Port Comfort Footbed
EVA (ethyl vinyl acetate) Midsole
Available in both protective-toe (ANSI Approved Xtremium Toe) as well as non-protective toe models
Alpha Force is available in a six-inch or eight-inch height and medium and wide widths. Sizes run from 4-12 and 13-16.
The Portland. A polishable full grain leather with 900 denier nylon boot that features San Crispino construction for added support and flexibility, an oil and slip resistant RigiTrac molded EVA (ethyl vinyl acetate) and rubber outsole. Additional features include:
One-year vapor barrier
Rocky Air-Port cushion footbed
Fiberglass shank 
Speed lace and hooking system
Heavy-duty YKK side zipper
The Portland is available in coyote brown or black, six-inch or eight-inch height and medium or wide widths. Sizes run from 5-10. This collection also has a ASTM F2892 Electrical Hazard Standard compliant boot.
With the introduction of its of Red Line boot collection, Rocky – a leader in footwear for all public safety departments – is paying homage to the family tradition of the fire service.
Available for men, women and children, the Red Line series offers a 10-inch square-toed boot that is comfortable and long-wearing with features that include:
Full Grain Leather Foot
Flex Construction with Double Row Welt Stitch
Oil and slip-resistant outsole with a lightweight EVA midsole
Ride FLX Comfort System
Rocky EnergyBed footbed
Expansion fit seam for easy donning and doffing
Fiberglass Shank
Durable Pull Straps
Red Line boots are available in a range of men's, women's, children's and youth sizes.
And Rocky is doing more than just paying homage to the family tradition of firefighting, with each purchase of Red Line boots, a portion of the purchase is donated to the Stephen Siller Tunnel to Towers Foundation. This wonderful foundation supports all our nation's public safety heroes. Along with the Red Line series, Rocky also has a Blue Line series that supports the law enforcement community with the same donation program.
Whether firefighting is a family tradition or you're the first to join the field, check out the numerous footwear options Rocky has to offer. 

Request information from Witmer Public Safety Group, Inc.
Thank You!