Bates Individual Comfort System with the Waterproof Benefit of Gore-Tex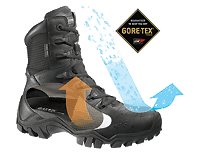 Bates Launches Proprietary Adjustable Comfort Dial Technology with GORE-TEX® ROCKFORD, Mich. (January 2009) A genuine breakthrough in advanced comfort technology, the Bates Individual Comfort System gives the wearer the freedom to customize the comfort of their footwear. By using the "dial" technology, the wearer is able to select the comfort zone that's right for them. This product is now available with GORE-TEX®, offering even more comfort benefits to the consumer.
Each individual is unique, along with their foot comfort needs. The adjustable comfort system from Bates can be adjusted for each individual's unique comfort requirements. Developed by the Bates Product Design Team and wear-tested by actual customers, the innovative "dial" technology offers a truly effective way for consumers to define all-day comfort on their own terms. For consumers who desire comfort and the ability to keep their feet dry throughout the day, GORE-TEX® footwear is breathable, durably waterproof and engineered to keep feet dry and comfortable at all times.
The comfort system is not only highly flexible; it is also easily customized. The adjustable comfort dial is built directly into the midsole of the shoe and can be placed to rest at one of the four zones. Each zone satisfies different comfort needs, allowing the user to place comfort where they want it. Here is how it works:
Firm Zone: Increases energy return and maximizes all-day support
Outward Zone: Reduces outward tilt and encourages natural walking motion and stability
Cushion Zone: Increases heel cushioning and maximizes shock absorption
Inward Zone: Reduces inward tilt and encourages natural walking motion and stability
Bates Individual Comfort System with GORE-TEX® products are currently available at your local Bates footwear dealer or online at www.batesfootwear.com.
With a commitment to service and product excellence, Bates Footwear is a division of Wolverine World Wide, Inc., one of the world's leading marketers of branded casual, active lifestyle, work, outdoor sport and uniform footwear and apparel. Wolverine's portfolio of highly recognized brands includes: Bates®, Hush Puppies®, HYTEST®, Merrell®, Sebago® and Wolverine®. The Company is also the exclusive footwear licensee of popular brands including Cat®, Harley-Davidson® and Patagonia®. The Company's products are carried by leading retailers in the U.S. and globally in nearly 200 countries and territories.