Drugs.com launches new medication app
The free app includes an online database of drugs with the ability to search, personalize information, and check how drugs taken at the same time will interact
---
A new Drugs.com app allows users to lookup drug information, identify pills and keep track of personal medication records on a mobile device.
The Medication Guide app features an online database of drug information that includes a suggestion engine, a phonetic search, the ability to ask questions about specific medications, and a pill identifier feature that identifies medications based on imprint, shape or color.
In also offers an interactions checker that provides a list of interactions that may occur when different drugs and food are taken at the same time. Users can set up their personal medical information, and access the interactions, side effects, dosage, consumer information, and FDA alerts.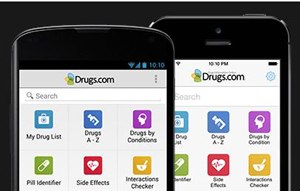 The app is free, and available for Android and iOS devices.